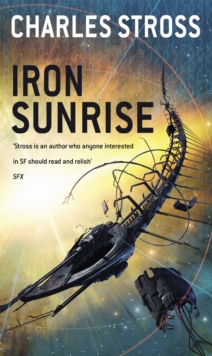 Description
When the planet of New Moscow was brutally destroyed, its few survivors launched a counter-attack against the most likely culprit: the neighbouring system of trade rival New Dresden.
But New Dresden wasn't responsible, and as the deadly missiles approach their target, Rachel Mansour, agent for the interests of Old Earth, is assigned to find out who was.
The one person who does know is a disaffected teenager who calls herself Wednesday Shadowmist.
But Wednesday has no idea where she might be hiding this significant information.
Time is limited and if Rachel can't resolve this mystery it will mean annihilation of an entire world.
Information
Format: Paperback
Pages: 496 pages
Publisher: Little, Brown Book Group
Publication Date: 04/08/2005
Category: Science fiction
ISBN: 9781841493367
Free Home Delivery
on all orders
Pick up orders
from local bookshops
Reviews
Showing 1 - 3 of 3 reviews.
Review by baltazargabka
16/06/2015
Pretty average. Continuation of the 'Singularity Sky' universe (distopia) with some of the same characters. The plot is pretty slow and heavy, and annoyingly disjointed. 'Singularity Sky' was much better.
Review by kevinashley
16/06/2015
A well-written and well-paced tale of planetary genocide, interstellar plots and cults seen through the eyes of a few key players, from a disaffected teenager with voices in her head to some scary totalitarian plotters. Although enjoyable, I didn't find this book as much of a revelation as Stross's debut novel, Singularity Sky. It doesn't contain an idea which is as novel, and as much fun, as The Festival. But it is set in the same overall world of causal channels and the god-like presence of the Eschaton, and humans who want to outwit them. The characters are good and varied and the settings well-imagined, and the plot has enough twists to satisfy those who like such things. But I would have liked to know more - or less - about the ReMastered and quite why they act as they do. Their presence is a given and there are some aspects of the plot which turn on their behaviour which don't quite ring true. We're given to believe that their 'puppets' are key to their plots for planetary takeover. Yet the only one directly described in the text clearly behaves like a B-movie zombie that would convince no one. But, that nagging problem aside, this is a good read which will satisfy anyone who's enjoyed Stross's other work or that of Ken Macleod (and I include myself in their number.)
Review by shanaqui
16/06/2015
I liked this one much more than Accelerando, and liked some of the characters, but it still didn't warm me up much to this guy's writing.
Also in the Singularity Sky series