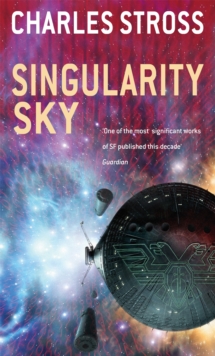 Singularity Sky
Paperback
Description
In the twenty-first century man created the Eschaton, a sentient artificial intelligence.
It pushed Earth through the greatest technological evolution ever known, while warning that time travel is forbidden, and transgressors will be eliminated. Distant descendants of this ultra high-tech Earth live in parochial simplicity on the far-flung worlds of the New Republic.
Their way of life is threatened by the arrival of an alien information plague known as the Festival.
As forbidden technologies are literally dropped from the sky, suppressed political factions descend into revolutionary turmoil.
A battle fleet is sent from Earth to destroy the Festival, but Spaceship engineer Martin Springfield and U.N. diplomat Rachel Mansour have been assigned rather different tasks.
Their orders are to diffuse the crisis or to sabotage the New Republic's war-fleet, whatever the cost, before the Eschaton takes hostile action on a galactic scale.
Information
Format: Paperback
Pages: 400 pages
Publisher: Little, Brown Book Group
Publication Date: 03/02/2005
Category: Science fiction
ISBN: 9781841493343
Free Home Delivery
on all orders
Pick up orders
from local bookshops
Reviews
Showing 1 - 5 of 8 reviews.
Previous | Next
Review by baltazargabka
16/06/2015
Enjoyed this complex cultural and political SciFi thriller very much. Stross has put a lot of effort into the (para)scientific descriptions of the alternative space travel technologies. All of this super-science is offset against the antiquated, 19th cenutry-like, reality of the planet where the action takes place. The concept of Festival, the enigmatic and anarchistic entity behind the plot line is just amazing. Stross's flavour for social justice and disdain for the distopia of his own creation are a rare gift among today's SciFi writers.
Review by stevencudahy
16/06/2015
A rollercoaster ride through a brilliantly imagined post-singularity future. Stross writes with a tongue-in-cheek style, loose and quick-witted, and although he's far from a ground-breaking stylist, the prose is decent enough to draw you through the adventures.Although the narrative is inventive, action-packed, and in places laugh-out-loud funny, the characters feel a little flat throughout. But this is more a novel of ideas than a story about real people, and Stross handles his theme - the effects on a rigid, primitive society of sudden contact with and alien species and access to anything people could want - well enough. There's nothing startlingly original here, and the swathes of technobabble may distance some readers, but as a first novel goes this was a credible effort, and shows promise for future works from a man who seems to be publishing a new novel every few weeks.
Review by felius
16/06/2015
This is an enjoyable read, with a fast pace and some great characters. It has some very funny moments, with humour which at times verges on Pythonesque - however it's no comedy, and offers some interesting observations on how people (and economies, and political institutions) might react when suddenly exposed to technology which renders almost every aspect of their society obsolete.At times I felt the humour was out of place, and at others I wanted more of it. Sometimes I wanted more political intrigue, and sometimes I just wanted more on the space-based warfare. I didn't really know what I wanted from this book, and the author seemed determined to give me a bit of everything.While the style is all over the place, the result is satisfying. There's a story to be told and we do get there in the end.This was the first book I've read by this author, and I'll definitely be coming back for more.
Review by ennui2342
16/06/2015
I have a love/hate relationship with Stross. He often is at the forefront of new ideas, but I can find the narritive often descending into farce breaking the suspension of disbelief.This book had a certain anticlimax to it which contributed to finishing with an overall sense of pointlessness. However, maybe this reflects its nature as the first of a series.
Review by NogDog
16/06/2015
A good story that moved along pretty well. It was in the same vein as Stross's other "Singularity" books, though perhaps more accessible than some. My only real complaint is that the conclusion seemed a bit weak, not leaving me feeling truly satisfied.
Also in the Singularity Sky series