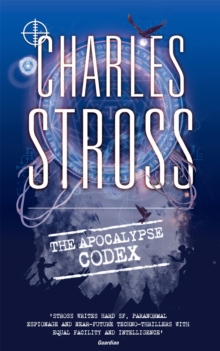 The Apocalypse Codex : Book 4 in The Laundry Files
Paperback
Description
Bob Howard used to fix computers for the Laundry - the branch of the British Secret Service that deals with otherworldly threats - but those days are over.
He's not only been promoted to active service but actually survived missions against cultists, enemy spies and tentacled horrors from other dimensions.
Willingly or not, he's on his way up in this dangerous organisation.When a televangelist with connections to 10 Downing Street seems able to work miracles, the Laundry takes an interest.
But an agency that answers to the Prime Minister can't spy on him themselves, and Bob's shadowy superiors come up with a compromise - they hire 'freelancers', with Bob in charge.British citizens who discover the occult are either forcibly recruited by the Laundry or disposed of, and Bob's never heard of freelancers before.
Officially they don't exist. Anyone who's big and bad enough to remain independent is going to be hard to handle, and Bob's not too sure that the one-week 'people management' course he was sent on in Milton Keynes is going to be enough . . .
Information
Format: Paperback
Pages: 416 pages
Publisher: Little, Brown Book Group
Publication Date: 01/07/2012
Category: Science fiction
ISBN: 9780356500980
Free Home Delivery
on all orders
Pick up orders
from local bookshops
Reviews
Showing 1 - 3 of 3 reviews.
Review by gbsallery
16/06/2015
I do like a good blend of thriller and Cthulhoid gothic fantasy, and The Apocalypse Codex is just such a work. Therefore, I like it. A lot. Stross really has carved himself a distinctive niche, then set about filling it with diligence and panache. My only complaint is that I will now have to wait about a year for the next instalment; too long! Cthulhu f'taghn.
Review by Rouge2507
16/06/2015
I am a huge fan of Stross "Laundry" but I have to say that this one has been less fun than the others: less nerdy fun, citations and jokes (Bob is not as central to the story as in the other books), and more lovecraftian-style (CASE NIGHTMARE GREEN is coming, probably in the next book, according to the author blog).And there are parts that have been plainly cut-n-pasted from the older books (e.g. the Trafalgar Square one-legged pigeons)
Review by PaulBaldowski
16/06/2015
Bob Howard continues his mildly inept manhandling of otherworldly horrors, coming up against evangelism running rampant in Colorado and threatening the fair shores of Blighty. Paired up with a couple of contractors engaged by External Assets, Bob spends most of the story in the States - with his wife Mo far out of frame - and new oversight of his activities by a bounder called Lockhart. Angleton remains on the sidelines, as do The Auditors - with plenty of ties-in references to all previous books and occurrences in the series.<br/><br/>Better than Jennifer Morgue, in my opinions, and comparable with The Fuller Memorandum, Codex does, however, feel like a retread of old ground. I also found some nagging sense of repetition in the storytelling that left me wondering whether Stross wrote the book as a serial. I didn't make notes of the bits that bothered me - they seemed to be elements around character description and references to the nature of Bob's mission that used the same terms and references again and again like we might have forgotten what's going on since we left the last chapter behind.<br/><br/>I preferred The Atrocity Archives and The Fuller Memorandum, for sure - although, I did like the continuity references peppered throughout. The sense that Bob has come a long way in the last ten years with all these references gives the loyal reader a sense of knowing involvement. We have made that journey with him and join Bob in his fight against the imminent CASE NIGHTMARE GREEN.<br/><br/>I'd cautiously welcome another volume, though I'd ask Stross to pause a moment and gather his original thoughts before setting about it.
Also in the Laundry Files series | View all