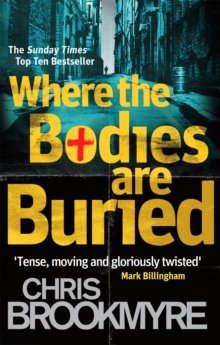 Where The Bodies Are Buried
Paperback
Description
Detective Catherine McLeod was always taught that in Glasgow, they don't do whodunit.
They do score-settling, vendettas and petty revenge. And however she looks at it, the discovery of a dead drug-dealer in a back alley means she's going to be busy.
Meanwhile, aspiring actress Jasmine Sharp is reluctantly - and incompetently - working for her uncle Jim's private investigation business.
When Jim goes missing, Jasmine has to take on the investigator mantle for real, and her only lead points to a professional assassin who has been dead for twenty years. Soon Jasmine stumbles into a web of corruption and secrets that leaves her running for her life.
Information
Format: Paperback
Pages: 416 pages
Publisher: Little, Brown Book Group
Publication Date: 01/06/2012
Category: Crime & mystery
ISBN: 9780349123356
Free Home Delivery
on all orders
Pick up orders
from local bookshops
Reviews
Showing 1 - 2 of 2 reviews.
Review by AHS-Wolfy
16/06/2015
Catherine McLeod, a Detective Superintendent in the Glasgow police, realises her holiday is over when she's given the case of the murder of a high level member of one of the local drug gangs. If this is a precursor to a gang war then why has she been given it and not LOCUST, the organised crime unit? Meanwhile, Jasmine Sharp, an aspiring actress, has accepted her uncle's offer of a job so she can keep paying her rent. She finds that she's not really cut out for the private investigations business but she'll need to improve rapidly when her uncle Jim disappears and the only lead she can muster is an assassin who's been dead for 20 years.This is the first book of a series that is distinctly more serious than the author's previous work. That's not to say this book is lacking in the humour that Mr. Brookmyre is renowned for as there is plenty to be found in the banter between the police and their discourse with the local hoodlums. There's just less of the situational comedy used in previous releases. The reader follows the two streams through twists and turns until they converge and provide a well-plotted and paced mystery novel with the added bonus of having not one but two strong female leads. Having been a fan of Christopher Brookmyre's work for a while it's good to know I can follow Chris Brookmyre's releases just as avidly.
Review by Cassandra2020
02/03/2016
This is a slight change in style for Chris Brookmyre (When did he decide to be Chris? Was it for this departure in style?). It's still crime, it's still Glasgow, the dialogue is still snappy and humorous. That's where the similarity ends. There's none of the comically inept criminals, no ranting by the author (that I spotted),no repeat characters (although I believe that he's going to continue with this strand and carry forward Jasmine as the lead), this is a more conventional crime novel.<br/><br/>So what does actually happen. It starts with what appears to be a Glasgow Gangland killing. We then follow the story via two sets of lead characters: Jasmine, a drama student turned PI who is helping out her ex-cop Uncle and Catherine a Glasgow detective investigating the aforementioned killing. Initially they are looking at very different crimes but, as is traditional with Brookmyre, they all intersect in the end. I doubt if that is much of a spoiler for you.<br/><br/>As far as the characters are concerned, they are nicely drawn and the dialogue is snappy and full of Glesca humour. I didn't like Jasmine initally, but warmed to her a little by the end. I though Catherine was an excellent character and the various other police worked well. Particularly liked Tron even thought I had worked out the <br/>twists in his story quite early on.<br/><br/>I'll happily continue to be a fan of Christopher Brookmyre &amp; will read the next one when it makes it to paperback. Just hope he's going to carry forward Catherine as well as Jasmine!<br/>
Also in the Jasmine Sharp series | View all