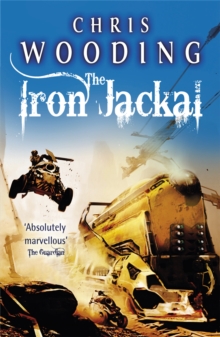 The Iron Jackal
Paperback
Description
Things are finally looking good for Captain Frey and his crew.
The Ketty Jay has been fixed up good as new. They've got their first taste of fortune and fame. And, just for once, nobody is trying to kill them. Even Trinica Dracken, Frey's ex-fiancee and long-time nemesis, has given up her quest for revenge.
In fact, she's offered them a job - one that will take them deep into the desert heart of Samarla, the land of their ancient enemies.
To a place where the secrets of the past lie in wait for the unwary.Secrets that might very well cost Frey everything.Join the crew of the Ketty Jay on their greatest adventure yet: a story of mayhem and mischief, rooftop chases and death-defying races, murderous daemons, psychopathic golems and a particularly cranky cat.
The first time was to clear his name. The second time was for money. This time, Frey's in a race against the clock for the ultimate prize: to save his own life.
Information
Format: Paperback
Pages: 544 pages
Publisher: Orion Publishing Co
Publication Date: 01/05/2012
Category: Fantasy
ISBN: 9780575098084
Other Formats
Paperback from £8.85
EPUB from £4.49
Free Home Delivery
on all orders
Pick up orders
from local bookshops
Reviews
Showing 1 - 1 of 1 reviews.
Review by Jannes
16/06/2015
Well, here we are again. I'm not really sure what to tell you. <i>The Iron Jackal</i> is the third novel in the <i>Ketty Jay</i> Series, and it's more of the same: its genre fiction from the fast-and-fun-high-adventure school of writing. An unashamed, running-around-blowing-things-up kind of literature that fires wisecracks at you at about the same the rate a machinegun fires bullets. No actually, the book is more like a machinegun that fires wisecracks and machineguns at you. And explosions. And chases... Uhm, maybe not the best simile, but there you go.The prose is of the clean, efficient and unremarkable (and, granted, occasionally funny) kind that would come off as boring in the hands of a less skilled storyteller, but Wooding makes it all come together. The plot works decently as well, and I'm eternally grateful that he keeps to his decision to write books with stand-alone arcs, rather than following the fantasy norm with its fixation on x-ologies and never-ending series. There are some overarching sub-plots relating to character development, but these are rather minor and never become too grating, even if they seem a little schematic at times.I see no real point in discussing the plot of this particular book in any detail: it's of the same breed as the last two, although Wooding ups the ante slightly and makes it even more hectic and fast-paced while at the same time increasing the scope and scale of the main conflict. The final plot twist feels a bit there-for-the-sake-of-it, but at that point you've probably enjoyed the ride so far too much to let it bother you.Special mention is deserved for the straight-faced rip-offs from other sci-fi titles - everything from <i>Firefly</i> to <i>kaze no tani no naushika</i>. In most other books I would gnash my teeth at such blatant copying, but here it somehow works and becomes an "homage" that leaves me chuckling instead.In conclusion: It's strictly light entertainment stuff, but it's good at what it does. It's fun to read, and well executed, and leaves you wanting more. It proves that you can have a good pulpy adventure without skimping on the quality. Other writers of genre fiction should take heed - you're running out of excuses...