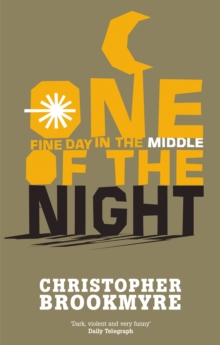 One Fine Day In The Middle Of The Night
Paperback
Description
Gavin is creating a unique 'holiday experience', every facility any tourist who hates abroad will ever want, will all be available on a converted North Sea oil rig. To test the facilities he's hosting a reunion for his old school (none of his ex-classmates can remember him, but what the heck, it's free). He is so busy showing off that he doesn't notice that another group have invited themselves along -- a collection of terrorist mercenaries who are occasionally of more danger to themselves than to the public. And they in turn are unaware that Inspector MacGregor has got wind of their activities. Within twenty-four hours Gavin's dream has blown to the four winds, along with a lot of other things. Fast, rabidly funny, and seriously over the top.
Information
Format: Paperback
Pages: 384 pages
Publisher: Little, Brown Book Group
Publication Date: 01/08/2000
Category: Thriller / suspense
ISBN: 9780349112091
Free Home Delivery
on all orders
Pick up orders
from local bookshops
Reviews
Showing 1 - 5 of 6 reviews.
Previous | Next
Review by SimonW11
16/06/2015
Wherein the baddies fall to arguing and kill about four of their team in the first Chapter. This is very knowingly "Die Hard On an Oil Rig"The Oil Rig in question having been converted to a Holiday Park and Currently hosting a school reunion. this is Fast and fun. Brookmyre manages to avoid his usual phillipics.
Review by AHS-Wolfy
16/06/2015
Brookmyre does Die Hard though on a converted oil rig instead of an office tower block. A gloriously violent start with lashings of black humour let you know what you're in for (to give you some idea of what I mean a flying arm knocks out a recently retired policeman out for a walk). Terrorists invade an oil rig that's been converted into a floating resort. Instead of the expected pre-launch party full of investors and other high-rollers they encounter a school reunion that's been 15 years in the making.Former school non-entity, Gavin, wants to show off to all those people who took no notice while at school. He's now a successful travel entrepeneur and has developed a floating resort on an oil rig which is scheduled to be transported to off the coast of Africa. So what better place to have a reunion so that he can gloat. Events take an unexpected turn when his party is crashed by the most ragtag bunch of terrorists you've ever seen.This book contains all the elements you'd expect from a Christopher Brookmyre novel. You may have to take some time deciphering the unfamilliar Scottish words and if you don't like violence or bad words then this book is not for you. For those that like their humour on the dark side with thrills and suspense thrown in then this is fully recommended.
Review by mojacobs
16/06/2015
If you are looking for a book that will give you a few nice evenings of uncomplicated, action-packed fun, Brookmyre is the man for you. In this book, the violence is often extreme, but the story is great and (most of) the characters are very likeable. Feel-good thriller writing at its best."
Review by ljbwell
16/06/2015
A group of people are invited to a 15-year class reunion to take place on an oil rig which has been, or rather is in the process of being, extravagantly renovated and turned into an offshore resort - the kind meant to make reluctant British vacationers experience nothing foreign. The host is a former classmate, eager to prove he's made the most of himself since their rough Auchenlea (outside Glasgow, Scotland) Catholic school days. While most of his former classmates barely remember who he was, they're curious and, most of all, looking forward to the open bar. Right from the start, the book is both very darkly humorous and very violent, and that remains consistent throughout. Like some of its main characters, it is self-deprecating in an appealing way. Characters who deserve a comeuppance get it, and characters who seek redemption find it. For those offput by and squeamish at a certain degree of violence and resulting gore, no matter how entertaining and even clever, this is likely not the right book. My main critique is that Brookmyre has so many threads going, some of the potentially interesting ones get a bit lost in the mayhem.Still and all, Brookmyre captures the essence of adulthood - that we all are trying to prove that we've evolved beyond what and who we were - or how we were perceived - as teenagers, and in reality we're all still carrying those roles around with us. Part Elmore Leonard, part Tom Wolfe, and the odd dash of John Hughes-the-reunion-years, all combined to make an entertainingly bloody good action-packed read.
Review by stuart10er
16/06/2015
Enjoyable, light read. I didn't enjoy it as much as the later books that I read (Snowball in Hell, Rubber Ducks), but is was good and kept me interested. The premise is a nobody in high school turns out to be a successful travel entrepreneur and sets up a derelict Oil rig off the coast of Scotland into a 5 star resort destination. He decides to invite his classmates to a test weekend on the facility for their 15th year reunion prior to towing it off the coast of Africa. Some terrorist bent on hostage taking complicate the weekend and mayhem ensues. This reads a little like what it is trying to lampoon, namely a "Die Hard" movie plot - but while poking fun at the stereotype, it never really transcends it either.
Also by Christopher Brookmyre | View all