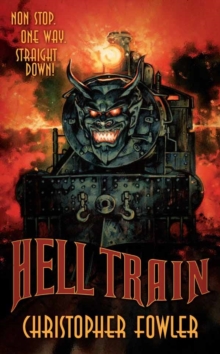 Description
Imagine there was a classic supernatural chiller that Hammer Films never made.
A grand epic produced at the studio's peak, which played like a cross between the Dracula and Frankenstein films and Dr Terror's House Of Horrors...Four passengers meet on a train journey through Eastern Europe during the First World War, and face a mystery that must be solved if they are to survive.
As the Arkangel races through the war-torn countryside, they must find out: What is in the casket that everyone is so afraid of?
What is the tragic secret of the veiled Red Countess who travels with them?
Why is their fellow passenger the army brigadier so feared by his own men? And what exactly is the devilish secret of the Arkangel itself?
Bizarre creatures, satanic rites, terrified passengers and the romance of travelling by train, all in a classically styled horror novel.
Information
Format: Paperback
Pages: 360 pages
Publisher: Rebellion
Publication Date: 01/01/2012
Category: Horror & ghost stories
ISBN: 9781907992438
Free Home Delivery
on all orders
Pick up orders
from local bookshops
Reviews
Showing 1 - 2 of 2 reviews.
Review by aadyer
16/06/2015
An enjoyable romp through an alternate Hammer universe, with some thoughtful pastiche writing, & plenty of ogre for those who like that sort of thing. It is two stories within one story, & very thrilling one of them is too. For Fans of Christopher Fowler, horror cinema, splatter punk, & Hammer films, I think that is near unmissable. For everyone else, it's good but I'm not sure how long it'll stay with you after you've finished it.
Review by adpaton
16/06/2015
Christopher Fowler takes a break from his beloved geriatric detctives Bryant and May to delve back into his supernatural roots in this diabolical pastiche, Hell Train. Although the book has recieved generally good reviews, as a long-time fan I was bitterly disappointed and while the premise is good, the writing is way below his usual standard. The story is set in 1966 when screen writer Shane Carter approaches Hammer Horror at their Bray Studios for a job: although they were past their peak, they were still the leaders in the horror genre and Shane was delighted to be offered the chance to give a treatment for their next project, a film set on board a train. The reader is then taken into his story, set in Eastern Europe, 1916, where Nicholas, an unscrupulous English adventurer, seduces a local girl [Isabella] and they flee her village just ahead of an invading army and, of more immediate danger, the angry townsfolk. The only means of escape is via a cursed midnight train called the Arkangel, full of doomed souls travelling to Hell. It's up to Nicholas and Isabella to prove they do not belong among the damned and to leave the train before it reaches the end of the line... Always impressive as a social historian, Fowler brings his setting to life and offers a fascinating and by all acounts fairly accurate account of the unbelievably improvised and casual methods of British Film making back in the 1960s. What ruins the book is the style of writing: there's a fine line between clever parody and purple prose and while Fowler may have intended to pastiche the cliched drama and hammish style of the B-Grade Hammer Horror films, the story reads badly.