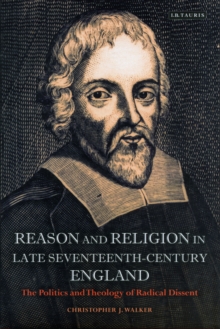 Reason and Religion in Late Seventeenth-Century England : The Politics and Theology of Radical Dissent
Hardback
Description
Reason has always held an uncertain position within Christianity. 'I believe because it is absurd',wrote Tertullian in the third century as he dismissed rational thought.
For Augustine of Hippo, reason had some merit as a route to faith but otherwise was of limited value, since it could undermine a person's ability to approach God: 'the wisdom of the creature', he opined, 'is a kind of twilight.' In seventeenth-century England, reason had come to mean, most usually, a spirit of free enquiry: the exercise of human intelligence upon some form of truth, whether religious or scientific.
The notion of revelation, by contrast, indicated the wider divine scheme within which human existence was situated.
Despite the influential writings of Erasmus of Rotterdam - exemplary Christian humanist, whose friendships with Thomas More and John Colet were close - rationality and faith continued to sit uneasily together in the early modern period. Christopher J. Walker here explores the tensions between the forces of reason and revelation within English religion in the volatile period following the English Civil War. Ranging widely across the ideas of the Great Tew Circle, the Anglican clergymen of the Royal Society, the Cambridge Platonists and dissenters like Paul Best and John Bidle (the 'father of English Unitarianism'), the author shows that the rational thinking of the radical figures of the era tended not to be antipathetic to Christian faith but integral to it.
Looking also at developments on the continent, he discusses the impact of thinkers like Arminius, who in the previous century affirmed that anyone - not just the elect - could enter heaven, and Faustus Socinus, who held that reason was a gift of God, human free will was real, and that the doctrine of the Trinity was unsupported by the Bible.
Though these dangerous and intoxicating ideas spread to England throughout the seventeenth century, and were certainly influential, the paradox of the English context was that radical religion was often allied to conservative politics, while those who were radical in their politics were usually conservative in their religious doctrines. In exploring this paradox, and the fascinating intellectual cross-currents which informed it,the book makes an important and original contribution to the history of religion and ideas.
Information
Format: Hardback
Pages: 312 pages
Publisher: I.B. Tauris & Co. Ltd.
Publication Date: 15/10/2012
Category: British & Irish history
ISBN: 9781780762920
Free Home Delivery
on all orders
Pick up orders
from local bookshops
Also by Christopher J. Walker