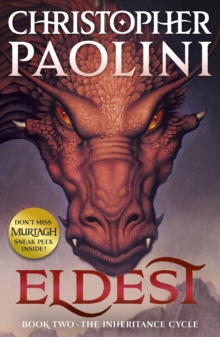 Eldest : Book Two
Paperback
Description
Darkness falls . . . Despair abounds . . . Evil reigns . . . Eragon and his dragon, Saphira, have just saved the rebel state from destruction by the mighty forces of King Galbatorix, cruel ruler of the Empire.
Now Eragon must travel to Ellesmera, land of the elves, for further training in magic and swordsmanship, the vital skills of the Dragon Rider.
It is the journey of a lifetime, filled with awe-inspiring new places and people, each day a fresh adventure.
But chaos and betrayal plague him at every turn, and Eragon isn't sure whom he can trust. Meanwhile, his cousin Roran must fight a new battle back home in Carvahall - one that puts Eragon in even graver danger. Will the king's dark hand strangle all resistance?
Eragon may not escape with even his life . . .
Information
Format: Paperback
Pages: 704 pages
Publisher: Random House Children's Publishers UK
Publication Date: 01/09/2006
Category: Fantasy
ISBN: 9780552552110
Other Formats
EPUB from £4.99
eAudiobook MP3 from £8.00
Free Home Delivery
on all orders
Pick up orders
from local bookshops
Reviews
Showing 1 - 3 of 3 reviews.
Review by neverwondernights
16/06/2015
It was better in some ways than Eragon, yet it still did not reach expectations (I have heard many a great things about this series yet I still fail to understand why). What made this book better than Eragon was that Paolini was older when he wrote this. It had less grammar mistakes (despite what some say, grammar is in fact important when writing). However there was still deus ex machinae and a lot of cliche.
Review by lorelorn_2007
16/06/2015
This book fails to please all but the most determined reader. Unlike the first book, here the story meanders and stagnates.Very little happens to drive the story forward, leaving the reader frustrated. While the scope of the story widens, the amount of story being told does not, leading to an effect like that of too little butter scraped over too much bread.
Review by pmhlearningcentre
16/06/2015
Eldest opens with Eragon looking upon the battlefield of Tronjheim. It has been three days since the battle has been won, three days since Eragon killed the Shade Durza. But the mood is bleak; there is no rejoicing over the victory. The stronghold of the dwarves and the Varden Farthen Dur is littered with bodies. The battle is over for now, but every one knows that King Galbatorix has not been completely defeated.And Eragon himself is scarred. Though he managed to kill Durza and is now known as Shadeslayer, Durza's sword has left a battle injury. The only hope for resisting the Empire of Galbatorix, wonders how a cripple like him will survive the conflicts ahead.Then in a surprise attack, a group of Urgals murder Ajihad, the leader of the Varden and take the Twins and Eragon's friend, Murtagh prisoner. The Varden's Council of Elders wants to nominate a leader who'll be a decision maker. They want Eragon to throw his weight behind them and swear allegiance to the Council. The dwarves too would like to have a say in the matter and want Eragon to support their choice. Arya, the ambassador of the elves, keeps her own counsel. Eragon is caught in these uneasy circumstances a time of power games and strategizing.During this adventure his own brother fights his own adventure, facing problems, which eragon has started. In the book I saw a feeling of brotherhood and how people work hard for others. I personally think this book is marvelous and if you like adventure series this is your type. I would rate this 5 stars and it would be 8+ as it contains some violence and hard words to pronounce for younger readers.Manpreet
Also in the The Inheritance Cycle series | View all