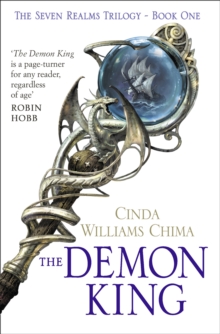 Description
The first book in an epic fantasy series from debut author Cinda Williams Chima.
Adventure, magic, war and ambition conspire to throw together an unlikely group of companions in a struggle to save their world.When 16-year-old Han Alister and his Clan friend Dancer encounter three underage wizards setting fire to the sacred mountain of Hanalea, he has no idea that this event will precipitate a cascade of disasters that will threaten everything he cares about.Han takes an amulet from one of the wizards, Micah Bayar, to prevent him from using it against them.
Only later does he learn that it has an evil history - it once belonged to the Demon King, the wizard who nearly destroyed the world a millennium ago. And the Bayars will stop at nothing to get it back.Meanwhile, Princess Raisa ana'Marianna, the heir to the Gray Wolf throne of the Fells, has just spent three years of relative freedom with her father's family at Demonai Camp - riding, hunting, and working the famous Clan markets.
Now court life in Fellsmarch pinches like a pair of too-small shoes.Wars are raging to the south, and threaten to spread into the high country.
After a long period of quiet, the power of the Wizard Council is once again growing.
The people of the Fells are starving and close to rebellion.
Now more than ever, there's a need for a strong queen.But Raisa's mother Queen Marianna is weak and distracted by the handsome Gavan Bayar, High Wizard of the Fells.
Raisa wants to be more than an ornament in a glittering cage.
She aspires to be like Hanalea-the legendary warrior queen who killed the Demon King and saved the world.
With the help of her friend, the cadet Amon Byrne, she navigates the treacherous Gray Wolf Court, hoping she can unravel the conspiracy coalescing around her before it's too late.
Information
Format: Paperback
Pages: 400 pages
Publisher: HarperCollins Publishers
Publication Date: 05/08/2010
Category: Fantasy
ISBN: 9780007321988
Free Home Delivery
on all orders
Pick up orders
from local bookshops
Reviews
Showing 1 - 1 of 1 reviews.
Review by wyvernfriend
16/06/2015
This was an excellent read. The twist was telegraphed from fairly early on but I am very much looking forward to reading more in this series and more by this author. It does rely on some of the tropes of Fantasy, the rogue with a secret, boy who has to leave home due to power, power disguised, evil mages trying to take a country over and a few more. Still it's well done and I enjoyed it.Han Alister is a reformed thief, spending time with a tribe outside the city every year, he experiences a different world and has some driends, Dancer and Bird, both of whom are coming close to their 16th birthday and the day they have to make a choice about their futures. Meanwhile in the city the Princess Raisa is approaching her 16th birthday, when she will be eligible to be married. However she yearns for more out of life. It appears that her mother is bending to the will of one of the Wizards, but how much is that her will and how much magic?Yeah, a worthwhile read.
Also in the The Seven Realms Series series