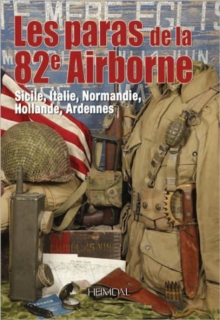 Les Paras De La 82e Airborne : Sicile, Italie, Normandie, Hollande, Ardennes
Paperback / softback
Description
The 82nd Division was first constituted on 5 August 1917 in the National Army.
It was organized and formally activated on 25 August 1917 at Camp Gordon, Georgia.
The division consisted entirely of newly conscripted soldiers.
When commanders discovered that the division contained draftees from the forty-eight US states that existed at the time, they nicknamed it "the All-American division."The bulk of the division was two infantry brigades, each commanding two regiments.
The 163rd Infantry Brigade commanded the 325th Infantry Regiment and the 326th Infantry Regiment.
The 164th Infantry Brigade commanded the 327th Infantry Regiment and the 328th Infantry Regiment.
Also in the division were the 157th Field Artillery Brigade, a divisional troops contingent, and a division train.
It sailed to Europe to join the American Expeditionary Force in fighting World War I. In preparation for Operation Overl;ord, the division was reorganized.
To ease the integration of replacement troops, rest, and refitting following the fighting in Italy, the 504th did not rejoin the division for the invasion.
Two new parachute infantry regiments, the 507th and the 508th, provided it, along with the 505th, a three-parachute infantry regiment punch.
On 5 and 6 June, these paratroopers, parachute artillery elements, and the 319th and 320th, boarded hundreds of transport planes and gliders to begin history's 2nd largest airborne assault, the biggest being Operation Market Garden.
Its 325th Glider Infantry Regiment would later arrive by glider on 7 June to provide a division reserve. Heimdal offers here a detailed presentation of the uniforms worn by the American paratroopers of the 82nd Airborne Division, the"All American," throughout the course of the Second World War. French Language
Information
Format: Paperback / softback
Pages: 80 pages, Numerous colour illustrations
Publisher: Editions Heimdal
Publication Date: 01/11/2012
Category: Uniforms & insignia
ISBN: 9782840483328
Free Home Delivery
on all orders
Pick up orders
from local bookshops