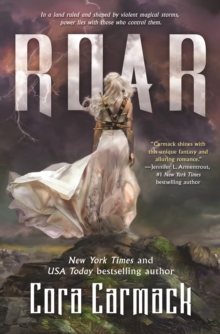 Description
Aurora Pavan comes from one of the oldest Stormling families in existence.
Long ago, the ungifted pledged fealty and service to her family in exchange for safe haven, and a kingdom was carved out from the wildlands and sustained by magic capable of repelling the world's deadliest foes.
As the sole heir of Pavan, Aurora's been groomed to be the perfect queen.
But she's yet to show any trace of the magic she'll need to protect her people.
To keep her secret and save her crown, Aurora's mother arranges for her to marry a dark and brooding Stormling prince from another kingdom.
At first, the prince seems like the perfect solution to all her problems.
He'll guarantee her spot as the next queen and be the champion her people need to remain safe.
But the more secrets Aurora uncovers about him, the more a future with him frightens her.
When she dons a disguise and sneaks out of the palace one night to spy on him, she stumbles upon a black market dealing in the very thing she lacks - storm magic. And the people selling it?They're not Stormlings. They're storm hunters. Legend says that her ancestors
Information
Format: Hardback
Pages: 384 pages
Publisher: St Martin's Press
Publication Date: 21/06/2017
Category: Fantasy
ISBN: 9780765386311
Other Formats
Paperback / softback from £7.19
eAudiobook MP3 from £19.28