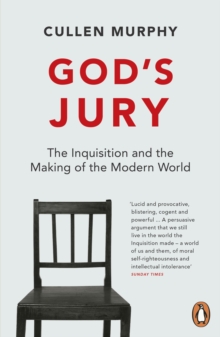 God's Jury : The Inquisition and the Making of the Modern World
Paperback
Description
From Cullen Murphy, editor at large of Vanity Fair, God's Jury is a chilling and powerful account of how the techniques used by the Spanish Inquisition created our modern world.
For centuries states have used their power to censor, watch, manipulate and punish.
God's Jury argues that the Inquisition - the Catholic body that existed for over 700 years - is not a medieval oddity, but is intrinsically bound up with modernity.
From Vatican archives to Guantanamo Bay and the Third Reich, Cullen Murphy shows how the Inquisition's techniques - record-keeping, bureaucracy and a terrifying sense of certainty - are now standard operating procedure, and that the battle between private conscience and outside forces is the central contest of the modern era. Cullen Murphy is Vanity Fair's editor at large and the author of Are We Rome? and The Word According to Eve. He was previously the managing editor of The Atlantic Monthly. 'Lucid and provocative, blistering, cogent and powerful ...A persuasive argument that we still live in the world the inquisition made - a world of us and them, of moral self-righteousness and intellectual intolerance' Sunday Times 'Beguiling and horrifying ...a book rich in stories and imaginative connections' John Cornwell, author of Hitler's Pope 'A grand and scary tour of inquisitorial moments, racing back and forth in history from Torquemada to Dick Cheney' Adam Gopnik, New Yorker 'A dark but riveting tale, told with luminous grace' Michael Sandel, author of Justice and What Money Can't Buy 'God's Jury is a reminder, and we need to be constantly reminded, that the most dangerous people in the world are the righteous' Mark Bowden, author of Black Hawk Down and Guest of the Ayatollah
Information
Format: Paperback
Pages: 320 pages
Publisher: Penguin Books Ltd
Publication Date: 01/01/2013
Category: General & world history
ISBN: 9780141000091
Free Home Delivery
on all orders
Pick up orders
from local bookshops
Also by Cullen Murphy