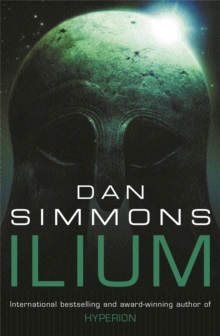 Description
Taking the events and characters of the Iliad as his jumping- off point, Dan Simmons has created an epic of time travel and savage warfare.
Travellers from 40,000 years in the future return to Homer's Greece and rewrite history forever, their technology impacting on the population in a godlike fashion.This is broad scope space opera rich in classical and literary allusion, from one of the key figures in 1990s world SF.
Ilium marks a return to the genre for one of its greats.
Information
Format: Paperback
Pages: 656 pages
Publisher: Orion Publishing Co
Publication Date: 01/03/2004
Category: Science fiction
ISBN: 9780575075603
Free Home Delivery
on all orders
Pick up orders
from local bookshops
Reviews
Showing 1 - 4 of 4 reviews.
Review by mummimamma
16/06/2015
Horribly uninteresting, even with my special interest anything historic/Greek. The persons were uninteresting at best, pathetic at worst. Did the writer only write this so he could go to bed with the world's most beautiful fictional character?If you ever come by my house you can have my copy.
Review by towo
16/06/2015
Ilium is an epic, dealing with the fate of humanity. The opening is the classical opening of the Illiad adjusted to fit the personal story of one Thomas Hockenberry, PhD, who finds himself documenting his field of study long after his death, on the plains of ilium. Simultaneously, there's a finite number of humans still living a stable, yet dull life on Earth proper and cybernetic mining robots in the depth of space.Such is the setting, and Simmons once again masters telling an epic story, again dealing with the fate of mankind after a technological singularity event.The characters, the story, the setting, they all come together to form a simply great work, only slightly marred by the length of the story.
Review by MEStaton
16/06/2015
An interesting book but I am afraid it kind of fell down in some places for me. I've been spoiled by the splendour of Hyperion. Although Ilium does have some unique and compelling elements it is both too epic to not have a completed and ending and too complicated to be completely enraptured with.Simmons does use his wealth of literary knowledge throughout this work however it is often disjointed and incongruos. To me this was like reading three books at the same time. We have the Trojan War played out and witnessed by a contempary human. We have Shakespeares sonnets and The Tempest driving a different set of characters and events completely and also a smattering do Proust.Although the story does attempt to tie the three different threads together it is left unfinished. However, the attempt to read this took so much effort in places and much of the literary discussion and conversations about quantum physics felt like filler or info dumps that I'm not particularly inclined to read the sequal.There was just so much going on and so many characters to follow. I did find some of the action and characters interesting and did read the whole thing hoping to get somewhere conclusive with them but felt left down at the end that I would be expected to work my way through 600+ more pages toward any resolution. I might try to read Olympos but not for a while as it seems like too mammoth a task.
Review by shanaqui
16/06/2015
The concept is very interesting. The execution, though, isn't so good. I didn't really care about the characters, and it took me a while to get what was going on. The little Shakespeare analysis rather annoyed me: off your soapbox, Dan Simmons, and just write a story.
Also in the Gollancz S.F. series | View all