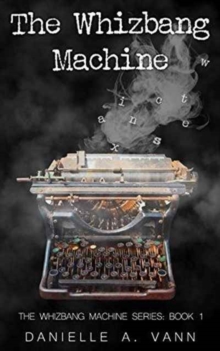 The Whizbang Machine
Paperback
Description
Everything changes the sweltering summer of 2007 for fifteen-year-old Elizabeth Yale.
When Elizabeth's father, Jesse, dies suddenly and with explanation her happy existences falls apart.
Her grandfather, Jack Yale disappears in the middle of the night, unable to deal with the death of his son.
During his travels, Jack spies an antique typewriter that he swears calls his granddaughter's names.
Despite Jack's desperate attempt to purchase the machine, the merchant refuses, claiming he has been tasked with finding the machines' rightful owner.
After several dreams and bizarre mishaps, Jack returns to the merchant armed with the information he is seeking.
The adventure that ensures will have readers on a wild chase for the truth from the United States to the Netherlands.
The first book in this series will have you begging for more.
After years of running from his tragic past, Jack Yale books a flight home.
With him is a typewriter that is intended to be a gift for his granddaughter, Elizabeth.
The minute Elizabeth's fingers cradle the large black and cream keys the machine responses: popping, sizzling, and roaring to life with a Whiz-Whiz-BANG!Elizabeth quickly discovers the typewriter has powers beyond anything she has ever seen.
The more she types, the more the machine spells out guarded secrets that need to be revealed in order to set history straight and remove a curse that has been on their family for centuries.
To solve the mystery, Elizabeth Yale, alongside Jack, will have to crack the code of the Whizbang Machine.
What they find challenges their most basic assumptions of their family, the history of the typewriter, and even Elizabeth's father's death. The ultimate goal is to remove the curse. The question is: will Jack and Elizabeth be able to carry out their mission?
Information
Format: Paperback
Pages: 384 pages
Publisher: Primedia E-launch LLC
Publication Date: 08/09/2016
Category: Thrillers (Children's/YA)
ISBN: 9781943847921
Free Home Delivery
on all orders
Pick up orders
from local bookshops
Also by Danielle A. Vann