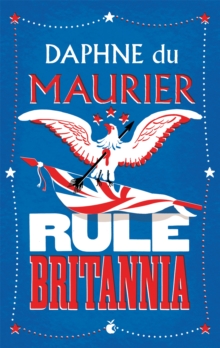 Description
It is rather awful, Emma thought as she walked across the fields down to the farm, how this business is leading us all into subterfuge and deception, and we can't really tell who is friend and who is enemy . . . 'Emma wakes up one morning to an apocalyptic world. The cosy existence she shares with her grandmother, a famous retired actress, has been shattered: there's no post, no telephone, no radio - and an American warship sits in the harbour.
As the two women piece together clues about the 'friendly' military occupation on their doorstep, family, friends and neighbours gather round to protect their heritage. In this chilling novel of the future, Daphne du Maurier explores the implications of a political, economic and military alliance between Britain and the United States.
Information
Format: Paperback
Pages: 336 pages
Publisher: Little, Brown Book Group
Publication Date: 04/03/2004
ISBN: 9781844080632
Free Home Delivery
on all orders
Pick up orders
from local bookshops
Reviews
Showing 1 - 3 of 3 reviews.
Review by abbie_g
16/06/2015
I enjoyed this book so much I sped through it in 2 days!
Review by Kasthu
16/06/2015
I've found in my experience that you can never go completely wrong with any of Daphne du Maurier's novels—even this one, which isn't exactly up my alley. I'm used to her books being historical fiction, suspense, or nonfiction, so I didn't know how I would like this somewhat-futuristic one.The novel is set on the eve of an ominous US/UK "alliance" in which American marine personnel are stationed in and around a small Cornish town. Emma is a young woman who lives with her grandmother, a famous actress who has a habit of adopting stray children. This is the story of Emma and her family, and how a Cornish town rebels against the US/UK alliance.This book is similar to some of her other books and stories; in particular, the atmosphere of this novel reminds me a lot of the short story "The Birds." Although the American marines aren't outwardly dangerous at first, there's a menacing air to them that becomes downright creepy over time. The book is described as being futuristic, but it's hard to know exactly when this book is supposed to take place. It's also been described as political commentary, but du Maurier's message isn't exactly clear—she's a lot better at creating atmosphere as opposed to making political commentary.As far as the characters go, mad is of course head and shoulders above the rest; I love that she's both eccentric and humorous, especially in the way she dresses. I'm not sure, though, why du Maurier kept emphasizing people's ages; we must hear over and over again that Mad is 79. Maybe it was foreshadowing to prepare the reader for the end of the book, but I thought that part of the story was clumsily done. Although this book is a page-turner, I don't think that it's one of du Maurier's best, unfortunately.
Review by RBeffa
27/08/2015
Daphne du Maurier's final novel is an odd one. I hope it was intended as a satirical farce, but somehow I doubt it. I perhaps might have understood it better if I knew more about British politics in 1972. This is clearly an anti-American piece, but it doesn't exactly regard greater Britain all that highly either. It strikes me as an odd tirade by a cranky old woman telling a story about another exceedingly cranky eccentric old actress who lives life like she has never left the stage and goes Mao (as in chairman) to foment a rebellion. There is some rather surprising bits of casual racism in here that I find bizarre even for 1972 when this was published. Calling a young black boy a "darkie" ... Really? Jeez. Anyway I think I probably speed read through some of the parts once I decided the book was failing me. The Americans are invited to invade Britain to form the YouSuck coalition ... I mean the USUK coalition and the American plan is to turn everything into theme parks to solve the unemployment problem. Maybe this should be shelved with "The Mouse That Roared." Actually, that's an insult to the Mouse. Sheesh, I guess America really has a worse image problem than I thought. The intro to the Virago edition was informative and probably helped me understand the book the little that I did. I'm a little undecided how to rate this. I decided on 2 stars because for me it was less than what I consider an average good read. However, it IS well written - just that the story is rather off. And I did enjoy reading parts of it much more than my short review suggests. In a word, I was disappointed.
Also in the Virago Modern Classics series | View all