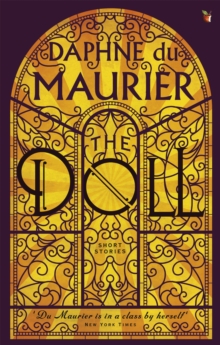 The Doll: Short Stories
Paperback
Description
'I want to know if men realise when they are insane.
Sometimes I think that my brain cannot hold together, it is filled with too much horror - too much despair . . . I cannot sleep, I cannot close my eyes without seeing his damned face.
If only it had been a dream.'In 'The Doll', a waterlogged notebook is washed ashore.
Its pages tell a dark story of obsession and jealousy.
But the fate of its narrator is a mystery.Most of the stories in this haunting collection were written early in Daphne du Maurier's career - when she was still in her early twenties - yet they display her mastery of atmosphere, tension and intrigue and reveal a cynicism far beyond her years.
Information
Format: Paperback
Pages: 224 pages
Publisher: Little, Brown Book Group
Publication Date: 01/05/2011
ISBN: 9781844087358
Free Home Delivery
on all orders
Pick up orders
from local bookshops
Reviews
Showing 1 - 4 of 4 reviews.
Review by JoLynnsbooks
16/06/2015
Daphne Du Maurier is known as a writer who can create suspenseful atmosphere and twisted characters. This book of short stories from her youth does not disappoint on either count. Yes, a few of the stories are unpolished or overblown ( A Difference in Temperament,The Doll), but there are also some real treasures here. 'And Now to God the Father' and 'Picadilly' are brilliant studies of depressing characters. 'The Limpet' is an astonishing tale of a woman (reminiscent of Elizabeth Taylor's Angel), insinuating herself and meddling to disastrous effect with the lives of everyone in her path. Thankfully, there is sly comic relief to be found in a few of these tales as a contrast to the cynical, oppressive mood of the majority. Recommended for Du Maurier fans and those who love an unexpected twist in their short stories.
Review by passion4reading
16/06/2015
This is a collection of little-known short stories, mostly written in her youth before she became a household name with Rebecca in 1938. For someone still in her early twenties, and several years before her marriage, she displays an extremely acute sense of observation and psychological insight. The majority of the stories tell of unhealthy obsession, deceit and the deception of others and oneself. My favourite was the rather darkly funny and psychologically acute 'Week-End', where Du Maurier inhabits both the male and the female point of view and pits them against each other; anyone in a relationship or marriage will recognise themselves or their partner in it.I doubt anyone unfamiliar with the author's work will choose this thin volume before such well-known novels as Rebecca or Jamaica Inn, but it is well worth reading to better appreciate Du Maurier's later skills with the pen and to ponder whether the seed for Rebecca and other works might not have been sown within one of the stories on offer here.
Review by shanaqui
16/06/2015
The Doll is a collection of du Maurier's early short stories. The introduction (by someone I'm not otherwise aware of) seems to suggest that the main interest here is in the beginnings of themes that later haunted her work, and the glimpses of the things that haunted her personally. I'm not that interested in that, though, but I still found the stories well-crafted and interesting. Daphne du Maurier certainly had a way with her narration; 'The Limpet' made me smile in recognition...<br/><br/>Not as fine as her later work, but worth a look if you're interested in du Maurier and the kind of stories she wrote.
Review by edwinbcn
10/11/2015
"The Doll" is the title story of a collection of early stories published in a volume as The doll. Most stories were written in the 1920s - 1930s, some while she was still living at home with her parents. The title story, "The Doll" was written in 1927, when Daphne du Maurier was only 20 years old. Some of these stories were published in magazines, but were long lost or uncollected. They were rediscovered and published, some for the first time, in 2011.As one might expect of neglected youth work, The doll is a mixed bag. The collection is probably very valuable to scholars and lovers of the work of Daphne du Maurier, but to other readers the quality of the stories varies a lot. The title story, "The Doll" is an outstanding piece of fiction, particularly psychologically very interesting, verging on the pathological. One could read it as a mix between horror and erotica. It is definitely haunting, and will stay with you for a long time.Most stories in the collection could be described as 'atmospheric'. Blending the atmospheric, rich description with a sense of alienation creates a typical adolescent fiction haunted by sexual repression and death, however, Daphne du Maurier's prose style is clearly very good, and developing. Weird, but interesting.
Also in the Virago Modern Classics series | View all