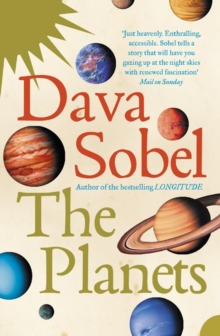 Description
After the huge national and international success of `Longitude' and `Gallileo's Daughter', Dava Sobel tells the human story of the nine planets of our solar system. This groundbreaking new work traces the `lives' of each member of our solar family, from myth and history, astrology and science fiction, to the latest data from the modern era's robotic space probes. Whether revealing what hides behind Venus's cocoon of acid clouds, describing Neptune's complex beauty, or capturing first-hand the excitement at the Jet Propulsion Laboratory when the first pictures from Cassini at Saturn were recently beamed to earth, Dava Sobel's unique tour of the solar system is filled with fascination and beauty.
In lyrical prose interspersed with poems by Tennyson, Blake and others, `The Planets' gives a breathtaking, intimate view of those heavenly bodies that have captured the imagination since humanity's first glimpse of the glittering night skies. Timely and timeless, `The Planets' will engage and delight as it unravels the mysteries of the cosmos.
It is of infinite relevance to this age in which new planets are being discovered elsewhere in our galaxy.
Information
Format: Paperback
Pages: 304 pages, (16 integrated images)
Publisher: HarperCollins Publishers
Publication Date: 03/07/2006
Category: Solar system: the Sun & planets
ISBN: 9781841156217
Free Home Delivery
on all orders
Pick up orders
from local bookshops
Reviews
Showing 1 - 2 of 2 reviews.
Review by Big_Bang_Gorilla
16/06/2015
The present state of book reviewing in this country was never more fully revealed as bankrupt as when this book managed to find some enthusiastic reviewers. The level of science in it is embarrassing even to this non-scientist, the nadir coming when the author "casts a horoscope" for Saturn. She's not a bad wordsmith, so the book is not a total waste of time, but the frequent silliness makes this fall somewhat below the level of adequate pop science.
Review by shanaqui
16/06/2015
I think I expected this to be more scientific than it turned out to be, which may be a common problem judging from other reviews. It's actually more of a historical glance at the way humanity has envisioned the galaxy, and the way our knowledge has grown over the millennia. It's a lot literary, with bits of science and mythology thrown in. Some parts of it were lovely for that, though I wasn't sure about the emphasis on linking the Old Testament Genesis story with the scientific facts of creation. It seems likely to alienate a lot of readers, even if it sounds pretty.Of course, we mustn't forget that this is also quite behind the times now: published in 2007ish, shortly after the demotion of Pluto, it has nothing to say about more recent discoveries about the moons of the outer planets, or Curiosity, or anything like that. It's quite accessible, but not up to date, which is a pity.Sometimes the literary interludes really got on my nerves, with Sobel putting words into people's mouths and anthropomorphizing inanimate objects. I like literary tricks like that as much as the next person, but it just seems ridiculous when they're giving words and complex thought to a meteorite...