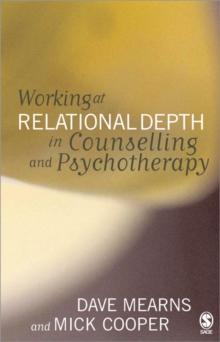 Working at Relational Depth in Counselling and Psychotherapy
Paperback
Description
'The book represents a 'gentle revolution'. The gentleness comes from its lack of stridency and from its inclusiveness, and the radical quality is that person-centred therapy in particular, and all therapeutic work in general, cannot be the same again' - Therapy Today`this is a great, most important and, for the English-language readership, ground-breaking book.
The subject of the book is of enormous interest and importance within and beyond the person-centered and experiential orientations in the whole field of psychotherapy and counselling, both in its practice and its theoretical development.
This great book had to be written. It presents an existential, phenomenological, dialogical approach at its best, and highlights the power of encounter relationship.
This book does not only portray the state of the art of person-centered and experiential psychotherapies.
Since many modalities develop in this direction - it is foundational for the realm of psychotherapy and counselling as such.
The book is of enormous international interest; not only the international perspective on literature and development in the field, but also the cross-links of different views contribute to the development of psychotherapy and counselling and will be fruitful for interdisciplinary dialogue. This book stands as a landmark. It will be very influential to theory and practice. If you don't read it, you will not be able to join in further discussion and theory and practice developments' - Person-Centered and Experiential Psychotherapies'Mick Cooper and Dave Mearns have managed to literally write with relational depth.
This reader experienced them as human beings from their introductions in the preface.
Their authenticity, their transparency and their humility evident from the first few words mirrored the "encounter at relational depth" this book is dedicated to.
By the end of chapter 6 the reader can imagine every trainee in the future with a well-worn, coffee and tear-stained copy of this book in their satchel.
This is, quite simply, a very good book' - Eisteach`a bold, heart-felt and daring discourse on the issue of communication in the therapeutic encounter.
Somebody needed to write a book such as this. Hopefully it will encourage us to examine more closely, and conduct more research upon, what happens between therapists and their clients' - Psychology and Psychotherapy `I found this book really refreshing and more relevant to my practice as a counsellor than any other book on the subject which I have ever read.
It felt very erudite, honest and "real", truly representative and reflective of what it's like to attempt to work as a person-centred counsellor and also found it stimulating / enlightening.
My experience reading it was one of being accompanied and understood as a practitioner, there were a lot of "yes, that's how it is" moments as well as "that's how it should / could be" times too and I also felt both guided and inspired, like receiving good supervision in book form.
In addition I found the writing style very accessible, warm and engaging' - Person-Centred Counsellor, Staffordshire University`It does not happen very often that a scientific publication is an exiting read, but in this case that was indeed my experience.
It touched me as a reader in its written genuineness, and I appreciate the fact that the views expressed in this book seem to be firmly grounded in scientific research, rather than the research being used as a simple way of demonstration or proving a point.
The cooperation between the authors has apparently been so thorough, that throughout the various chapters only small differences in style can be noticed'- Tijdschrift Clientgerichte Psychotherapie`I believe this book will have a durable and intense impact on the perception and discussion of person-centred theory.
It is a brilliant exposition of where person-centred theory is at.
The new developments are integrated into the fabric of person-centredness in ways that are not disruptive, yet radically alter the thing itself' - Person-Centred Quarterly'This is one of those rare books which will attract a wide readership because it operates at so many different levels.
It is, by turn, scholarly, dramatic, challenging, prophetic, practical, intensely personal and yet with implications which, if taken seriously, could transform the whole field of counselling and psychotherapy' - Brian Thorne, The Norwich Centre for Personal & Professional Development 'This new text by Dave Mearns and Mick Cooper is at once timely, informative, challenging and a delight to read' - Professor Ernesto Spinelli, Senior Fellow, School of Psychotherapy and Counselling, Regent's College, London 'This is an important book.
It integrates concepts and practices from a range of approaches to therapy, and offers a convincing and original perspective that has the potential to inform practice, training and research for many years to come' - John McLeod, Professor of Counselling, Tayside Institute for Health Studies, University of Abertay DundeeWorking at Relational Depth in Counselling and Psychotherapy is a ground breaking text, which goes to the very heart of the therapeutic meeting between therapist and client.
Focusing on the concept of 'relational depth', Dave Mearns and Mick Cooper describe a form of encounter in which therapist and client experience profound feelings of contact and engagement with each other, and in which the client has an opportunity to explore whatever is experienced as most fundamental to her or his existence.
Drawing from their own practice, interviews with therapists and a diverse range of theoretical and empirical sources, the authors address the key question of how therapists can meet their clients at a level of relational depth.
They show how different aspects of the therapist combine to facilitate a relationally-deep encounter, highlight the various personal `blocks' which may be encountered along the way, and introduce new therapeutic concepts - such as 'holistic listening' - which can help therapists to meet their clients at this level. Two powerful case studies - a client with a drink problem and a traumatized client - have been selected to illustrate key aspects of working at relational depth. Like many of the ideas discussed in this book, the case studies represent a challenge to conventional thinking about the therapist-client relationship and the nature of the therapeutic process. Eagerly awaited by many counsellors and psychotherapists, Working at Relational Depth in Counselling and Psychotherapy is a source of fresh thinking and stimulating ideas about the therapeutic encounter which are relevant to trainees and practitioners of all orientations.
Dave Mearns is Professor of Counselling, University of Strathclyde.
His previous books with SAGE include Person-Centred Counselling in Action, Second Edition (with Brian Thorne), Developing Person-Centred Counselling, Second Edition and Person-Centred Counselling Training. Mick Cooper is Senior Lecturer in Counselling, University of Strathclyde.
His previous publications include Existential Therapies (SAGE Publications, 2003).
Information
Format: Paperback
Pages: 200 pages
Publisher: SAGE Publications Inc
Publication Date: 10/08/2005
Category: Counselling & advice services
ISBN: 9780761944584
Other Formats
Paperback from £24.79
EPUB from £22.43
PDF from £22.43
Hardback from £79.25
Free Home Delivery
on all orders
Pick up orders
from local bookshops