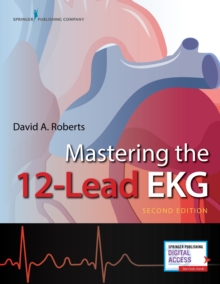 Mastering the 12-Lead EKG
Paperback / softback
Description
Mastering the 12-Lead EKG, Second Edition is the only book to boil down the complexity of learning EKG interpretation into an engaging and approachable tool.
This resource uses a step-by-step systematic method, real-world clinical applications, and abundant practice opportunities to teach you everything you need to know to provide expert, quality care.
The second edition is greatly enhanced with abundant exercises that apply and reinforce chapter concepts.With a clear, approachable writing style, the book delivers extensive opportunities for learning, taking students from the beginning of their EKG journey through mastery of the 12 lead.
Woven throughout each chapter is an algorithmic method for mastering EKG interpretation that fosters retention of the content.
Engaging hand-drawn illustrations will keep you engaged as you learn everything you need to know about EKGs, beginning with anatomy and physiology and closing with the latest important 12-lead EKG topics.
You will have hundreds of opportunities to practice and apply your knowledge through interpreting sample EKG strips, case studies, and fill-in-the-blank questions. New to the Second Edition:Incorporates exercises that apply and reinforce chapter conceptsOffers hundreds of practice opportunities including EKG strip interpretation, case studies, and questions with detailed explanationsKey Features:Conversational writing style and abundant images including EKG strips and illustrationsStep-by-step algorithmic method for interpreting 12-lead EKGsFor students with minimal or no EKG experienceReal-world examples to connect complex clinical conceptsDetailed answers with explanations of important concepts provided onlineDelivers both the breadth and depth that health care professionals need to provide quality patient care
Information
Format: Paperback / softback
Pages: 400 pages
Publisher: Springer Publishing Co Inc
Publication Date: 30/01/2020
Category: Medicine: general issues
ISBN: 9780826181930