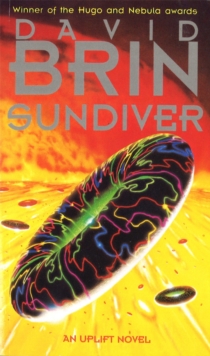 Sun Diver
Paperback
Part of the Uplift series
Description
Circling the Sun, under the caverns of Mercury, Expedition Sundiver prepares for the most momentous voyage in our history.
A journey into the boiling inferno of the sun, to seek our destiny in the cosmic order of life. For in a universe in which no species can reach sentience without being 'uplifted' by a patron race, it seems that only mankind has reached for the stars unaided. And now, the greatest mystery of all may be explained...Sundiver is the firs book in David Brin's magnificent Uplift series.
Information
Format: Paperback
Pages: 352 pages
Publisher: Little, Brown Book Group
Publication Date: 18/01/1996
Category: Science fiction
ISBN: 9781857233704
Free Home Delivery
on all orders
Pick up orders
from local bookshops
Reviews
Showing 1 - 3 of 3 reviews.
Review by reading_fox
16/06/2015
First of the Uplift sextet. Introducing the readers to the turbulent times of the five linked galaxies. Earth is just about recognised as a civilised place having already genetically enhanced some of its natural species to helpful levels. But aliens in the galaxy have been exploring of 10000s of years before man even arose on the Savanah and are not inclined to civility bound by codes of conduct millenia old. Human investigations old technologies new to mankind don't bring any favours and when some "new" is discovered politics starts again.An interesting concept in a novel universe.
Review by isabelx
16/06/2015
The ship swooped through the turbulent chromospheric crosswinds, tacking on the plasma forces by subtle shifts in its own magnetic shields ... sailing with sheets made of almost corporeal mathematics. Lightning fast furling and thickening of those shields of force -- allowing the tug of the conflicting eddies to be felt in one direction and not another -- helped to cut down the buffeting dealt out by the storm.Those same shields kept out most of the screaming heat, diverting the rest into tolerable forms. What got through was sucked up into a chamber to drive the Refrigerator Laser, the kidney whose filtered wasteflow was a stream of x-rays which clove aside even the plasma in its path.Still, these were mere inventions of Earthmen. It was the science of the Galactics that made the Sunship graceful and safe. Gravity fields held back the amorous, crushing pull of the Sun so the ship fell or flew at will. The pounding forces of the center of the filament were absorbed or neutralized, and duration itself was altered by time-compression.Sundiver is set less than thirty-five years after First Contact with the Galactic Civilisation. Virtually all space-faring species were uplifted into sapience by a patron race, so humanity's lack of a patron race is unusual and their status is increased by having two client species of their own, having recently uplifted chimpanzees and bottlenose dolphins, and not everybody in the galaxy is happy about that. There are two groups of humans who have very strong opinions on the subject; the Skins, who believe that humanity uplifted itself through evolution, and the Shirts who are certain that we were uplifted by an alien race and then abandoned by them. This book is basically a detective story. Jacob Alvarez is invited to pin the Mercury-based Sundiver project because the crews of the expeditions ships have started seeing strange things on their trips into the sun's chromosphere, ghostly figures that seem to be herds guarded by shepherd who sometimes transform themselves into humanoid shape and seem to be trying to communicate. Are these sun creatures real, and if so, could these sun creatures be humanity's lost patrons? It's a good mystery story, and I liked the aliens, especially Kant Fagin and Bubbacub, but the human characters were less so. Still, I am looking forward tot he rest of the series.
Review by nwdavies
16/06/2015
Took me a while to get round to it but I've finally read the first of the Uplift novels and it was very very good. Classic science fiction of the type I've always liked but struggle to find these days (except by re-reading old Clarke, Asimov, Heinlein, Dick etc.). It was also my first novel by David Brin so I will be searching out more of his books, both Uplift novels and others.