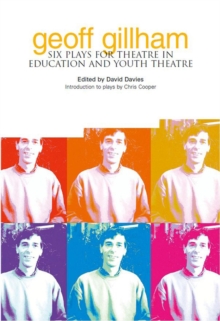 Geoff Gillham : Six Plays for Theatre in Education and Youth Theatre
Paperback / softback
Description
For over 30 years, Geoff Gillham was a leading figure in Theatre in Education.
Starting as the Artistic Director at the Cockpit Theatre in London, where he wrote, devised and directed memorable new plays and TIE programs, he went on to freelance work in the UK and internationally.
He is the author of some 40 plays all performed but never published.
His untimely death from cancer in 2001 robbed Theatre in Education of its foremost playwright and practitioner.
This invaluable collection focuses on young people s search for their humanness through their involvement with the plays, whether as actors or audience.
The playsASYLUM a play for youth theaters with the scenes moving between the immigration officer and his wife and the immigrants themselves.
Asylum is a masterpiece of political theatre. Edward BondLESSONS A play for TIE or youth theaters.
Based on a Kafka short story the narrator shows how, by careful education, he was changed from monkey to human in just a few years.
A brilliant satire on the education system.BONE CAGE A play for TIE or youth theaters.
Set in a fictional landscape with a war raging, a man is hauling a young girl to the bone yard.
Another girl who has escaped into the hills while the man is asleep, tries to persuade her to leave him and come with her.
The bone cage refers to her head that imprisons her and prevents her from leaving - or does it?DRESSING UP STRIPPING DOWN originally a play for community theaters, adapting the story of The Emperor s New Clothes to show how naked of human ideas our political leaders are.THE KISS a play commissioned by an Arts Center in Jordan and premiered there.
It deals with the problems of young people growing up anywhere in the world today.WHEN SLEEPING DOGS AWAKE a play for TIE or youth theaters.
All the characters are stray dogs who hear that they are all to be rounded up and taken off in a van.
The play looks at the horrific places racism can lead to.Geoff Gillham s plays are of immediate interest and relevance to today's theater in education workers, youth leaders interested in theater, teachers, student teachers and lecturers.
Powerful and disturbing, and superbly crafted, they will appeal to everyone seriously interested in the education of young people through drama and theater.The plays are available to download as individual playscripts for performance.
Details at www.trentham-books.co.uk
Information
Format: Paperback / softback
Pages: 230 pages
Publisher: Institute of Education Press
Publication Date: 29/09/2011
Category: Playscripts (Children's/YA)
ISBN: 9781858564951