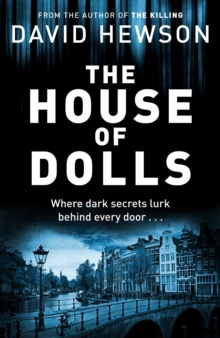 The House of Dolls
Hardback
Description
Anneliese Vos, sixteen-year-old daughter of Amsterdam detective, Pieter Vos, disappeared three years ago in mysterious circumstances.
Her distraught father's desperate search reveals nothing and results in his departure from the police force. Pieter now lives in a broken down houseboat in the colourful Amsterdam neighbourhood of the Jordaan.
One day, while Vos is wasting time at the Rijksmuseum staring at a doll's house that seems to be connected in some way to the case, Laura Bakker, a misfit trainee detective from the provinces, visits him.
She's come to tell him that Katja Prins, daughter of an important local politician, has gone missing in circumstances similar to Anneliese. In the company of the intriguing and awkward Bakker Vos finds himself drawn back into the life of a detective.
A life which he thought he had left behind. Hoping against hope that somewhere will lay a clue to the fate of Anneliese, the daughter he blames himself for losing . . .
Information
Format: Hardback
Pages: 448 pages
Publisher: Pan Macmillan
Publication Date: 10/04/2014
Category: Crime & mystery
ISBN: 9781447246145
Other Formats
Paperback from £7.09
EPUB from £3.19
Free Home Delivery
on all orders
Pick up orders
from local bookshops
Reviews
Showing 1 - 1 of 1 reviews.
Review by RowingRabbit
16/06/2015
First time I've read this author &amp; I noticed his other books have received very mixed reviews but I really enjoyed this, mostly due to the main character.<br/>The MC is Pieter Vos, a 39 year old former police detective in Amsterdam who left the job after he was unable to solve the abduction of his own daughter. It's 2 years later &amp; Vos is living on a decrepit houseboat. It's shabby &amp; broken, much like him. He spends his days with his dog, staring at a doll's house at the nearby Rijksmuseum, convinced it's linked with her disappearance. <br/>His solitude is interrupted one day by Laura Bakker, a newby cop who brings a summons from his former boss Frank De Groot. The vice mayor's daughter is missing. A ransom was delivered along with a doll, much like the one Vos received when his daughter was snatched. Would he come back &amp; help with the investigation? <br/>It's a tricky situation. Besides the fact Vos is still recovering from a nervous breakdown, the vice mayor's second wife is Liesbeth, Vos' former partner. He's not sure he wants to deal with her but can't resist the chance to find new information that may lead to news of their daughter. <br/>Meanwhile, in alternating chapters, we follow 2 drug lords fighting for control of the city. One is due to be released from prison &amp; it's only a matter of time before the bodies start to pile up. What begins as 2 separate stories is eventually interwoven as past secrets &amp; alliances are slowly revealed &amp; Vos is drawn into their bloody battle. <br/>It's a complex, layered story with many sub plots. The author does a good job of gradually bringing it all together with a large, diverse cast of characters, all with personal agendas. Lies, secrets, machiavellian plans, affairs, back stabbing...and that's just the politicians. At least the gangsters are more straight forward when it comes to revenge. <br/>You can't help but feel strongly about some of the characters. Vos is a sympathetic &amp; likeable "hero". He's a smart, honest guy whose life was ripped apart, leaving him with a tenuous grip on his sanity. And though he still harbours some feelings for Liesbeth, she comes across as a self absorbed &amp; ambitious harpy that he should be grateful to be rid of. Her husband epitomizes the word "sleazy" &amp; I desperately wanted to see him get what he deserved. The only character that didn't ring true (and was just down right annoying) was Laura. Yes, she's a misfit but the way the author writes her dialogue makes her sound like a spoiled, petulant child rather than an adult in a professional career. <br/>The last third of the book has twists &amp; surprises on almost every page as the horrible truths emerge. And if you thought you knew the good guys from the bad, think again. Sometimes gangsters can be more honourable than supposed law abiding citizens.<br/>All in all, a fast paced &amp; intricate thriller that did just what a good book should...kept me eagerly turning the pages to see how it all shook out &amp; who was left standing at the end.
Also in the Detective Pieter Vos series | View all