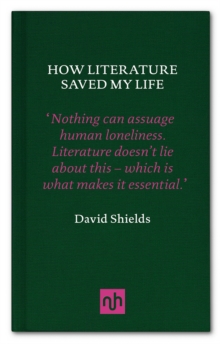 How Literature Saved My Life
Hardback
Description
Blending confessional criticism and anthropological autobiography, David Shields explores the power of literature to make life endurable.
How Literature Saved My Life chronicles the author's character flaws and despairs, using the crucible of self to show how confessional reading and writing are the foundation of a practice that helps us transcend sorrow, loss, and loneliness. 'I think just about everything David Shields writes is pretty much indispensable.' - Brett Easton Ellis
Information
Format: Hardback
Pages: 187 pages
Publisher: Notting Hill Editions
Publication Date: 01/03/2013
Category: Literary essays
ISBN: 9781907903755
Free Home Delivery
on all orders
Pick up orders
from local bookshops
Reviews
Showing 1 - 1 of 1 reviews.
Review by RandyMetcalfe
16/06/2015
There is a kind of portentous playfulness that is in vogue these days. It is not the disingenuous false modesty of the calculatedly ironic. It is not the light-hearted comic jape, satisfied perhaps to be <i>merely</i> play. It is not the tangential take, the oblique angle that reveals much. It is not the one or two-fingered salute to the powers that be. No. It is full of regard, if only self regard. It is grand in its ambitions, or at least its statement of its ambitions. It is deathly serious, though burdened by a great fear of seriousness. And it loves more than anything to appropriate, unearned, the portentous pronouncements of others, bouncing from one to another like a log driver delicately stepping across his charges safe so long as he moves on before the log rolls.Autobiography is all, in the new vogue. Criticism, we're told, is a form of autobiography. Fiction is really just autobiography. Biography? Right again, it's also autobiography. And non-fiction – that vast bloomy everything that isn't just a chronicle of one damn fictional thing after another – non-fiction is autobiography too. Presumably so is this brief review. It's all about me. Or so, I suppose, David Shields might say.Undoubtedly there is a spirited freshness about such writing. It can seem electric, if not electrifying. But its energy feels chemical, like the buzz after a short hit of some illicit drug, rather than grounded and substantial. And it quickly, for me at least, becomes tired, and all too quickly tiresome. It is, in the end, a perfect form for the Internet. But its pleasures may not extend to even a book as brief as this one.That said, there were bits of this book that I enjoyed – a clever phrase, a wry observation here or there. Just not enough to sustain my interest, and certainly not enough either to save my life or end it.