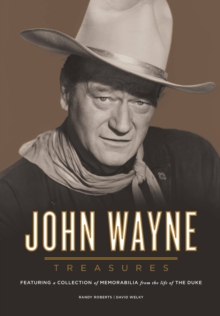 John Wayne Treasures : Featuring a Collection of Memorabilia from the Life of the Duke
Hardback
Description
John Wayne Treasureschronicles the life of this legendary actor, from his earliest movies and years out in the wilderness to his final films and eventual passing. Four pieces of memorabilia included in the books pocket add vivid detail to this story of John Waynes life.

Damn, Im the stuff men are made of!John Wayne

While people around the globe adore and cherish John Wayne, he remains the quintessential American icon. He embodied the definition of the American cowboy, soldier, and rugged individualist. Dukes extraordinary rise to famefrom hauling furniture around studio lots to becoming one of the most famous actors in the worldis chronicled in this handsome volume, complete with on-set and behind-the-scenes photographs, vintage movie posters, and cigarette cards from his most well-known movies. Clips of interviews, quotes from movies, and the testimony of the people he surrounded himself with tell the story of Americas favorite western star.

John Wayne Treasurescontains a pocket in the back with fourpieces of memorabilia spanning John Waynes life and career. Included are asmall movie poster forStagecoach,excerpts from Dukes Glendale High School senior yearbook circa1925, and proof sheets fromBig Jake andThe Shootist.

Since John Waynes death in 1979, he has been the subject of the publics fascination and has become a folk legend, of sorts. John Waynes character, with biting wit and grit, has grown far bigger than the man himself. While alive, he embodied the persona he created with pride, patriotism, determination, and integrity.Written by true and loyal fans, every aspect of the Dukes life is covered in this book.
Free Home Delivery
on all orders
Pick up orders
from local bookshops