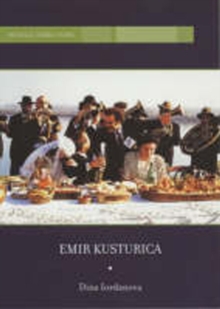 Emir Kusturica
Paperback / softback
Description
With no less than two Golden Palms from Cannes and scores of other top awards, Bosnian-born Emir Kusturica is one of the most decorated and celebrated film directors in the world.
Films such as Time of the Gypsies (1989) and Underground (1995) have captivated audiences with their extraordinary imagination, exuberant energy and challenging and often contentious subjectmatter.
But Kusturica is also one of the most controversial directors working in cinema today.
While many critics have praised his free-flying fantasy, others have found his films excessively exoticised and overdrawn.
Some have publicly criticised his politics. He has an extensive international fan following who worship his work and think of him as a film-making genius, but there are also people who think of him as an opportunist.
Dina Iordanova's study in the BFI World Directors series is a balanced examination of Kusturica's personality, films, artistry, and ideology.
It acknowledges the contradictions but tries to understand and make them comprehensible to others.
The text presents an overview of Kusturica's career from early films with their debt to Russian cinema and the Czech New Wave (Do you Remember Dolly Bell? 1981; When Father was Away on Business, 1985) to the most recent Black Cat White Cat (1998) and the 'rockumentary' Super 8 Story (2001).
It pays tribute to his attractive and impressive aesthetics and investigates the particularities of his ideology.
The author details Kusturica's artistic and personal roots dating back to socialist Sarejevo in the former Yugoslavia, examining the sources of his unique artistry, and the complex ideological and political issues that arise from their production and reception histories.
Dina Iordanova's account presents a uniquely rounded view of this fascinating director showing how Kusturica's intensely held (though changing) Balkan affiliations lie at the root of a practice which has proved to be one of the latest and glorious flowerings of the European auteurist tradition.
Information
Format: Paperback / softback
Pages: 216 pages, illustrations
Publisher: Bloomsbury Publishing PLC
Publication Date: 01/07/2002
Category: Individual film directors, film-makers
ISBN: 9780851708997