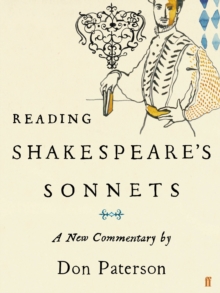 Reading Shakespeare's Sonnets : A New Commentary
Hardback
Description
Shakespeare's sonnets of 1609 are as thrilling and persuasive today as they were when they were first published: perhaps no collection of verses before or since has so captured the imagination of lovers and readers as these.
In this stunning new edition of the work, Don Paterson, an award-winning sonneteer and lyric poet in his own right, offers an illuminating and accessible guide to these unforgettable verses.
In a series of mesmerising and highly-entertaining short commentaries, placed alongside the sonnets themselves, Don Paterson explains the inner workings of the poems: their hidden structures and techniques, their narratives and their brilliance.
An approachable handbook to the sonnets and the sonnet form, packed with reading tips and advice on the craft, this new edition offers an enjoyable and indispensable insight into our greatest Elizabethan writer by one of the leading poets of our own day.
Information
Format: Hardback
Pages: 448 pages
Publisher: Faber & Faber
Publication Date: 04/11/2010
Category: Poetry by individual poets
ISBN: 9780571245024
Other Formats
Paperback from £10.25
EPUB from £8.00
Free Home Delivery
on all orders
Pick up orders
from local bookshops
Reviews
Showing 1 - 1 of 1 reviews.
Review by Caomhghin
16/06/2015
I'm reading a book on Sanskrit literature at the moment and apparently a sentence in Sanskrit can have two separate meanings - identical words/two meanings. Well i never. You can't quite do that in English but Shakespeare often does his best. In the sonnets, and elsewhere, he sometimes manages to get very close to this. For instance No 3, not one of the great ones, uses "glass" as mirror and window glass but then you realise it can also mean hourglass. This gives the poem an extra dimension of meaning and emotion. Again a phrase like "tillage of thy husbandry" is an agricultural metaphor and also a semi-literal bawdy one as husbandry relates to "husbands" as well as farming. This is apart from any interrelationship between words and phrases. metaphors and topics, in the poems. They are dense, complex, self-referencing, intellectually challenging and great fun. Shakespeare plays with you and teases you. Even his grammar can mislead you if he wants it to. All of this is by way of recommending that if you want to enjoy Shakespeare's Sonnets do not read Paterson's book. He disapproves of and probably dislikes wordplay, puns, baroque language, ambiguity, non-'spontaneous experience' genres ... ie he mostly doesn't like the premise on which these poems are built. And of course he has his own biographical theory which some of the sonnets don't quite fit into - so this makes those sonnets inferior. The Sonnets, of course, are poems written in a long tradition of sonnet cycles not an autobiography, journal or novel. Shakespeare plays with the genre and somewhat subverts it. It is possible that the Young Man and Dark Lady never existed or are creations based on different people. We don't know and we will never know and it is not important. They are lyrics, works of highly wrought art not W.S's Diary. However having squeezed Shakespeare into an autobiographical box, Paterson then provides literal rewordings, criticises metaphors for not being precise or literal enough. Want to know which sonnets are "worth" reading and which not - take a quick peep at his first and last paragraphs on the poem. There's no ambiguity in his judgments and he knows what he likes - I suspect it is poems that are very much like his own. Pretty well Cliffs Notes then if you discount the heavy humour which is presumably there to lighten the air as you plough through these poems. However he is really good on the prosody - sometimes a little quirky but he goes a long way to explaining its importance and power. That said I don't think Paterson really likes the Sonnets very much. If you want to understand/enjoy them try the Oxford World's Classics Poems and Sonnets or Stephen Booth's wonderful if rather huge edition.