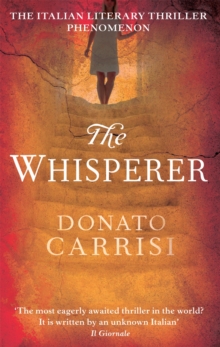 Description
Six severed arms are discovered buried in a forest clearing.
They are arranged in a mysterious circle, and appear to belong to missing girls between the ages of eight and thirteen.
But the rest of the bodies are nowhere to be found. Criminologist Goran Gavila is given the case. A dishevelled, instinctively rebellious man, he is forced to work with young female police officer Mila Vasquez.
Lithe, boyish, answering to no one, Mila has a reputation as a specialist in missing children.
She also has a tragic history of her own that has left her damaged, unable to feel or to relate to others. Theirs is a fiery but strangely affecting working relationship - and as they uncover more secrets about the dark secrets in the forest, their lives are increasingly in each other's hands...A gripping literary thriller that has taken Italy by storm, The Whisperer has been as sensational a bestseller in Europe as the Stieg Larsson novels.
It is that rare creation: a thought-provoking, intelligent literary novel that is also utterly unputdownable.
Information
Format: Paperback
Pages: 480 pages
Publisher: Little, Brown Book Group
Publication Date: 01/01/2011
Category: Crime & mystery
ISBN: 9780349123448
Free Home Delivery
on all orders
Pick up orders
from local bookshops
Reviews
Showing 1 - 2 of 2 reviews.
Review by gypsysmom
16/06/2015
This was a gripping read and reminiscent of Silence of the Lambs, even to the butterfly on the cover.Someone has kidnapped 5 young girls. When left arms are discovered in a remote wooded area the police team investigating the kidnappings suspects the worst and they are right. Tests show the arms come from the kidnap victims. There is just one problem--there are six arms, not 5. And it becomes obvious that the 6th arm was taken from a girl when she was living. That puts the team under a lot of pressure to find the kidnapper while the girl is still alive.The team consists of Goran Gavila, leader and civilian, Stern, Boris and Rosa who are police officers. A decision is made to bring in Mila, a police officer from another jurisdiction who is a specialist in missing persons cases. Mila is a loner and so has a hard time fitting into the team. But she has some success in discovering motives and she is gradually accepted by most of the team except for Rosa, the only other woman. Mila and Gavila in particular make a connection. As time goes by the bodies of the girls start showing up and it becomes clear that they are positioned to point up the crimes of other people. The team keeps scrambling and they know more about the perpetrator but not enough.The ending, I thought, was a little far-fetched which is the reason my rating isn't higher. All in all, it was a great read. Since this is a first book for this author I hope there will be more to enjoy.
Review by tymfos
16/06/2015
I received a copy of [The Whisperer] through the LT Early Reviewer program. I seem to recall it being described, somewhere, as creating "a sensation" in Europe. Well, it was sensational -- and I don't necessarily mean that in a positive way.It deals with child abductions and murders, and revolves around the team assembled to try and solve the crimes. Mila is an emotionally damaged officer who is brought in because she's an expert at finding missing children. Dr. Gavila is a criminologist with some odd methods. The whole squad is an odd bunch of not particularly likable characters. They eventually move into "the studio," an old "safe house" once used for witness protection, as their base for solving the crime.A lot of it was very good and suspenseful. It kept me turning pages with lots of plot twists. But at the end, it got too convoluted, and the final turns of plot made the whole thing totally implausible in my mind. And it really did fall into what I felt was almost crass sensationalism. How to explain my reasons for feeling this way, without spoilers, is a major problem to which I have no answer.One thing I <i>can</i> say is that -- at least as it stands in the proofs I read -- there is NO sense of place, such as I have enjoyed in so many other books imported from Europe. Geographical names are not used, there are a lot of references similar to "the next town" or "the village where she lives," etc. The story is obviously set in a climate that receives snow in February. Certain terminology gives clues -- calling fuel "petrol," for instance. You could argue that it's meant to give the feeling that "this could be happening anywhere." Or perhaps the lack of a sense of place is meant to echo the sterile, "away from the world" atmosphere of "the studio" which the investigative team uses as their base of investigations. But, then, I really didn't get the point of them moving into "the studio" either.