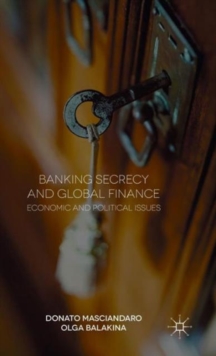 Banking Secrecy and Global Finance : Economic and Political Issues
Hardback
Description
A 2009 G20 official document stated that the era of banking secrecy is over but is it?
If banking secrecy is the result of market mechanisms, it suggests that worldwide demand and supply are likely to remain for a long time to come. Since the Global Financial Crisis, many countries have fought to combat banking secrecy, yet it permeates both national and international industries, and global efforts to prevent banking secrecy have been ineffective or at worst counterproductive.
In this book, the authors show how the growth of criminal activity has systematically generated a demand for banking secrecy.
They explore how national politicians and international banks have been motivated to supply banking secrecy through economic and political incentives, and shed light on the economics and politics of banking secrecy.
This book takes a multidisciplinary approach to reveal the variety of behaviours and processes involved in making dirty money appear clean, providing an in-depth study of financial transactions which are characterized by a special purpose: hiding the originally illegal sources.
This work will be of interest to students and scholars of economics and finance, and those with an interest in banking secrecy, global finance, international banking, and financial regulation.
Information
Format: Hardback
Pages: 283 pages, X, 283 p.
Publisher: Palgrave Macmillan
Publication Date: 05/08/2015
Category: Economics
ISBN: 9781137400093
Also by Donato Masciandaro