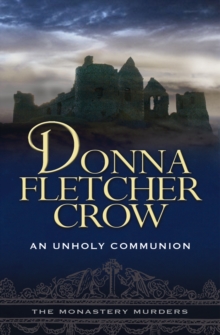 An Unholy Communion
Paperback
Description
First light, Ascension morning. From the top of the tower at the College of Transfiguration, voices rise in song.
Felicity's delight turns to horror when a black-robed body hurtles over the precipice and lands at her feet. Her fiance Father Antony recognizes the corpse as Hwyl Pendry, a former student, who has been serving as Deliverance Minister in a Welsh diocese.
The police, ignoring the strange emblem of a double-headed snake clutched in the dead man's hand, label the death as suicide.
But Hwyl's widow is convinced otherwise, and please for Felicity and Antony to help her uncover the truth. Matters grow murkier as Felicity and Antony, leading a youth pilgrimage through rural Wales, encounter the same sinister symbol as they travel.
Lurking figures following them. Then a body is found face-down in a well...
Information
Format: Paperback
Pages: 384 pages
Publisher: Lion Hudson Plc
Publication Date: 04/03/2013
Category: Crime & mystery
ISBN: 9781782640042
Free Home Delivery
on all orders
Pick up orders
from local bookshops
Reviews
Showing 1 - 5 of 12 reviews.
Previous | Next
Review by celticlady53
16/06/2015
Unholy Communion is the third book in The Monastery Murders by Donna Fletcher Crow. I have not read the first two and I am usually apprehensive reading a book that is not the first in a series. I was not disappointed and did not have any issues figuring out who is who and the past story-lines.Felicity Howard, a young American studying for the Anglican priesthood at the College of the Transfiguration in Yorkshire, finds herself involved in another mystery. She is running late to participate in the Ascension festivities as she slept late. So instead of participating she is an observer and while observing she sees a black robed body come hurtling down and landing by her feet. The body has a note in his hand with an emblem that makes her wonder if this is an accident or was he murdered.Felicity is engaged to be married to Father Anton, an Anglican priest, and they are both participating in a youth pilgrimage following in the footsteps of St.David, patron saint of Wales. While on this pilgrimage to the chapel of St.Non with a group of people varying in ages, Felicity and Father Anton find themselves being followed and other things happening en route that they find very disturbing. In trying to keep tract of everyone on the pilgrimage and keep everyone safe things become quite dangerous.I found this story being very interesting for the historical aspects of Welsh history, Saint Non, mother of St.David. I feel that the author did an amazing job with historical details while keeping the mystery and not having the story getting too bogged down with historical facts. I enjoyed the book immensely so much that I have ordered the first two books in the series so I can get caught up in the lives of Felicity and Father Anton and I look forward to reading the fourth book in the series. I received this book for review and was not momentarily compensated for my review
Review by JalenV
16/06/2015
This murder mystery hit several of my buttons: a strong heroine, historical facts presented in an interesting rather than deadly dull fashion, religious characters who aren't secretly corrupt or evil, some good red herrings, it's set in the United Kingdom, and has a supernatural element. The four pages before chapter one give us the story of St. Non, mother of St. David, patron saint of Wales. We meet the first death, quite unpleasant, early on. No one is suspecting murder, so Felicity and her Father Antony are allowed to leave Yorkshire to lead an ecumenical youth pilgrimage in Wales. A Father Stephen was supposed to lead the pilgrimage, but an accident forces him to miss out -- very, very fortunately for the pilgrims.Father Antony teaches a class on Spiritual Warfare -- a bit like being the teacher of Defense Against the Dark Arts at Hogwarts, minus the cool magic. Felicity doesn't really believe in the supernatural/paranormal, but she loves her man, so she doesn't laugh in his face whenever he talks about it.Not unlike many Elizabeth Peters mysteries, there are plenty of odd happenings that could be rationally explained away, but not entirely, such as the pilgrim who thinks she was pushed over an edge, but there was no one close enough to do it at the time -- or sudden changes in the weather at inopportune times. (Inopportune for the pilgrims, but handy for someone or some thing evil working against them, that is.)The pilgrims include a budding archeologist, a student nurse and her younger brother, a couple of Goths, a very spiritual young woman, and a known trouble-maker. There have been enough weird goings on by the time another American joins the group that neither Felicity nor the reader can be sure whose side she's on.Throw in an occult group which may or may not be harmless 'nutters' [kooks], murder and near murder, a very worrisome disappearance and there's a good time to be had by lovers of supernatural mysteries.The book includes a map of the UK showing the route of the pilgrimage, a timeline for some important historical happenings, and a glossary -- all sensibly included at the front of the book, for which I thank the author and publishers. The references, of course, are at the back.The glossary doesn't include 'jumper,' which is not a sleeveless, collarless dress worn over a shirt or blouse to the British. That's their term for what we here in the USA call a 'pullover sweater,' so don't be taken aback when one of the male characters is described as wearing one.Now I want to read the first two books.
Review by aya.herron
16/06/2015
As the third book in the Monastery Murders series begins, Felicity is looking forward to Ascension morning. Running late to the tower at the College of Transfiguration, Felicity can hear the heavenly sound of voices singing. Tragically, as she looks up at the tower, a figure in black plummets to earth and lands before her. As Felicity steps away, the hand of the dead man releases a simple scrap of paper with a strange emblem on it. The police are quick to dismiss the incident as a suicide. However, neither Felicity's fiancé, Father Antony, nor the man's widow believes it.Hoping for a little peace and quiet, Father Antony encourages Felicity to accompany him as he leads a youth pilgrimage through Wales. Unfortunately, evil influences and sightings of the strange emblem seem to be around every corner. The group encounters a series of sinister, almost paranormal, events aimed at defeating their progress. As the group makes their way to St. David's, the paranormal events become even more sinister and seem to threaten their very lives. However, along the way, the group learns to work together and with the power of prayer they struggle to overcome the sinister force. Meanwhile, as Felicity and Father Antony tend to the pilgrims, they must try to solve the mystery of one man's death before anyone else gets hurt.The Bottom Line: Fans of crime fiction featuring clerical sleuths will want to check this series out. Also, those who enjoy mysteries set in the English countryside may want to give this one a try. <i>An Unholy Communion</i> is chock full of historical information making this book an interesting read. The themes of teamwork, friendship, and good overcoming evil make this book a worthwhile read. Although I have not read the first two books in the series, I was able to pick up this installment and read it without feeling like I was missing anything. While this isn't a quick weekend read, I did enjoy the author's ability to make the English countryside come alive. Finally, this book includes a glossary for those of us not familiar with British history and terminology.
Review by readafew
16/06/2015
This book confused me twice. The write up of the book made me originally think that it was like Cadfael or Sister Fidelma, taking place in the middle ages at a monastery. It's not, it's a very modern setting with stories going way back. The second thing that through me off was I assumed it was a cozy murder mystery like an Agatha Christie. While there was a 'murder' and there was a mystery the sleuthing was so-so and there was a bit of supernatural going on. I enjoyed reading the book and it was filled with little historical stories and they are what made the book enjoyable, the mystery wasn't well written nor the detecting well done. Overall, I think the author would do better writing books to bring the past back to life, instead of trying to write mysteries. History is her expertise and you can tell, she did that very well.
The story begins with a nightmare on Ascension morning for Felicity, which then manifests in reality leaving behind an image of a strange emblem. As a well intended distraction, Father Antony, her fiance', invites her to join an ecumenical pilgrimage for young people in Wales.The pilgrims, recommended by their various churches, are a motley assortment, from a young boy with a fixation on Roman ruins to teen girls into punk and/or goth.Their journey follows the path of St. David, a Cistercian of the 6th Century.All along their journey, the group is seemingly followed by evil manifesting through accidents and horrible storms, inevitably connected to various appearances of the same emblem Felicity and Father Antony associate with the death of a colleague. The journey will culminate in a Black Mass.
Also by Donna Fletcher Crow