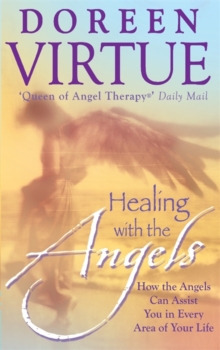 Healing with the Angels : How the Angels Can Assist You in Every Area of Your Life
Paperback
Description
You are surrounded by loving and powerful angels who want to assist you in every area of your life.
In Healing with the Angels, Doreen Virtue teaches esoteric and practical methods that can help you work with your angels in healing your relationships, body, career and family issues. You'll read transcripts of Doreen's angel reading sessions and learn what the angels have to say about life after death, the future of our world and finding your Divine purpose.
Discover the angelic meaning of numbers such as 111, how your past lives may affect your present-life issues and why angels sometimes incarnate in human form.
You'll also explore the fascinating world of elementals and nature angels and see how they can heal your pets, the world and you.
Also included are angel affirmations to increase your self-confidence, and powerful angelic prayers for helping you find a soulmate, correct childhood behavioural issues and heal from grief.
Information
Format: Paperback
Pages: 208 pages
Publisher: Hay House Inc
Publication Date: 01/10/1999
Category: Thought & practice
ISBN: 9781561706402
Free Home Delivery
on all orders
Pick up orders
from local bookshops
Reviews
Showing 1 - 1 of 1 reviews.
Review by IonaS
16/06/2015
Like all Doreen Virtue's books, this one is simply written and easily read. She provides much convincing information about the angels so we're left in no doubt that they really exist and can help us with our various problems.However, we need specifically to ask the angels for help, otherwise they're not permitted to intervene. Only if we're in a life-threatening situation, and it's not our time to go, are they allowed to intervene without our asking. And when we ask them for help we must surrender the problem to them.The chapters in the book are short and include examples of Doreen's advice to clients (channelled from the angels) and inspiring stories of how people have been assisted by them.We are given many useful prayer formulations we can use to heal various specific situations, for example, a prayer for increased energy or a prayer for a lost pet.Information is also provided about measures through which we can help to detoxify our bodies. . These include instructions to avoid meat contaminated with hormones and pesticides, to follow an all-organic diet, if possible, to reduce alcohol, caffeine and carbonation from our diet, to avoid sodium laurel sulphate and related substances in household products, etc, etc.It turns out every living creature has guardian angels, including flowers, plants, trees, birds and animals. If our pet has a problem, we can ask its guardian angel to help. Doreen recounts a story about her cat being in danger, but all went well when she requested that its guardian angel intervene.Should you be worried about burglars or other persons coming into your house uninvited, you would do well to follow the author's advice and ask God to place an angel on every corner of the house to protect it and us.There is an informative chapter about incarnated angels, elementals, walk-ins and star people. And a final chapter about the significance of the numbers we sometimes notice we keep seeing.These are just a few of the subjects referred to. The appendix includes an extremely useful forgiveness exercise for forgiving all those who have ever irritated us. I'm in the process of doing this exercise, but it will take some time since there are 139 persons on my list!This is not a deep or intellectual book in any way, but it is a simple, practical guide encouraging us to ask the angels for help and suggesting which type of problem we can ask them for help with (all types)!I recommend this book to all those who are open to the existence of these wonderful beings, without whose help we could not exist.