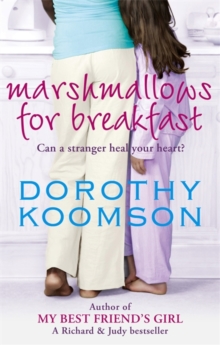 Marshmallows for Breakfast
Paperback
Description
When Kendra Tamale returns to England from Australia she rents a room from Kyle, a divorced father of two, and begins a new job.
She's looking forward to a fresh start and simple life.
Kyle's five-year-old twins, Summer and Jaxon, have other ideas and quickly adopt Kendra as their new mother - mainly because she lets them eat marshmallows for breakfast.
Kendra eventually becomes a part of their lives, even though she's hiding a painful secret that makes her keep everyone - especially children - at arm's length.
Then Kendra bumps into the man who shares her awful secret, and things fall apart: she can't sleep, she can't eat, she's suspended from work, and the kids are taken away by their mother.
The only way to fix things is to confess to the terrible mistake she made all those years ago.
But that's something she swore never to do . . .
Information
Format: Paperback
Pages: 448 pages
Publisher: Little, Brown Book Group
Publication Date: 04/06/2007
ISBN: 9780751537086
Free Home Delivery
on all orders
Pick up orders
from local bookshops
Reviews
Showing 1 - 4 of 4 reviews.
Review by Elphaba71
16/06/2015
This is a Fabulous book. I fell into it from page one. Wonderfully written and at times heartbreaking. The characters were great, I really warmed to them. This is one book I would love to fall into the pages of again.
Review by LornaBriggs
16/06/2015
I am reading this one at the moment can't put it down.
Review by Leonna87x
16/06/2015
Hmm, i brought this book as i really enjoyed my best friends girl..I was quite excited about reading this book..BUT by the time i reached chapter 7, i was looking forward to finishing it. It was a bit of a drag in places..This book had no 'wow' factor for me, it didnt excite me, it didnt make me want want to carry on reading, i even skipped bits now and again as i was so desperate for it to end. I HAVE to read all books i start. So yes, it is ok, but i wouldnt really recommend it highly..but then again,i wouldnt tell people not to buy it. I guess it just wasnt for me :)
Review by Marlene-NL
16/06/2015
Finished it yesterday. I liked it but not as much as I did Goodnight Beautiful.<br/>Both books are a bit weird, I mean she writes about things that can happen in real life but also about things that are a bit weird.<br/><br/>Like this woman meets the twins and falls in love and she is there slave? She does not read a letter of the man she loves for nearly a year. Geez here I thought I had a big avoidant personality disorder, but this beats mine. I do not open my bills sometimes ;) <br/>All in all i want to read more by this author.<br/>Give this an 8 out of 10. or 3.5 stars out of 5