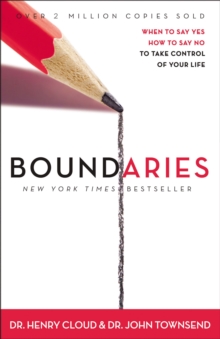 Boundaries : When to Say Yes, How to Say No To Take Control of Your Life
Paperback
Description
Having clear boundaries is essential to a healthy, balanced lifestyle.
A boundary is a personal property line that marks those things for which we are responsible.
In other words, boundaries define who we are and who we are not.
Boundaries impact all areas of our lives: Physical boundaries help us determine who may touch us and under what circumstances -- Mental boundaries give us the freedom to have our own thoughts and opinions -- Emotional boundaries help us to deal with our own emotions and disengage from the harmful, manipulative emotions of others -- Spiritual boundaries help us to distinguish God's will from our own and give us renewed awe for our Creator -- Often, Christians focus so much on being loving and unselfish that they forget their own limits and limitations.
When confronted with their lack of boundaries, they ask: - Can I set limits and still be a loving person? - What are legitimate boundaries? - What if someone is upset or hurt by my boundaries? - How do I answer someone who wants my time, love, energy, or money? - Aren't boundaries selfish? - Why do I feel guilty or afraid when I consider setting boundaries?
Dr. Henry Cloud and Dr. John Townsend offer biblically-based answers to these and other tough questions, showing us how to set healthy boundaries with our parents, spouses, children, friends, co-workers, and even ourselves.
Information
Format: Paperback
Pages: 320 pages
Publisher: Zondervan
Publication Date: 22/02/2002
ISBN: 9780310247456
Free Home Delivery
on all orders
Pick up orders
from local bookshops
Reviews
Showing 1 - 5 of 6 reviews.
Previous | Next
Review by nesum
16/06/2015
There is some very useful stuff in this book, but I do not believe the authors distinguish enough between keeping those boundries up about the bad while loosening up about the good. They SAY that, but in their examples they do not encourage that.To explain, let me use the story at the end of the book, which is a woman's day when she has her boundaries functioning "properly." The discipline she teaches her childing is good, but as for the rest of it, what love does she show? Does she help bear the burdens of those around her, as we are instructed to do in Galatians 6?Obviously not. In fact, she dumps her work onto her assistant so she can skip out early, makes herself a pest to her husband until he conforms to her wishes, and hangs up on a friend who had called her for help.Before boundaries, she was a wreck, it is true. Yet is the solution to being stressed an abandonment of Christian responsibility, or is it to lean on God for more patience?I would rather be tearing my hair out in service than to assert myself in what I would consider an unchristian way. The authors have laid out a method by which you can make everyone around you do your bidding. And yet the first shall be last in the end. Let me be a servant!
Review by PacificChurch
16/06/2015
A helpful book in understanding how to define and set healthy boundaries for the Christian life.
Review by amyrn75
16/06/2015
This is a book that I have to read many times over, the concept of letting go of the bad to let in the good resonated more than anything. Yes the book is repetitive, but the more you read something, the more you will understand and retain. Each person carries their own daily load, but we all share our burdens.
Review by mj.greenway
16/06/2015
Front row placement on my bookshelves, so I can refer to it often. This book is beautifully written, with scriptural and historical data to explain and clarify sociological expectations and create more functional relations.
Review by Coranne
16/06/2015
I would give this book 10 stars if I could... life changing.