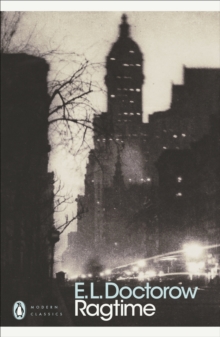 Description
Set in turn-of-the-century New York, E.L. Doctorow's Ragtime seamlessly blends fictional characters and realistic depictions of historical figures to bring to life the events that defined American history in the years before the First World War.
This Penguin Modern Classics edition includes an introduction by Al Alvarez.Welcome to America at the turn of the twentieth century, where the rhythms of ragtime set the beat.
Harry Houdini astonishes audiences with magical feats of escape, the mighty J.
P. Morgan dominates the financial world and Henry Ford manufactures cars by making men into machines.
Emma Goldman preaches free love and feminism, while ex-chorus girl Evelyn Nesbitt inspires a mad millionaire to murder the architect Stanford White.
In this stunningly original chronicle of an age, such real-life characters intermingle with three remarkable families, one black, one Jewish and one prosperous WASP, to create a dazzling literary mosaic that brings to life an era of dire poverty, fabulous wealth, and incredible change - in short, the era of ragtime.E.L.
Doctorow (b.1931) is one of America's most accomplished and acclaimed living writers.
Winner of the National Book Award, the National Book Critics Circle Award (twice), the PEN/Faulkner Award, and the National Humanities Medal, he is the author of nine novels that have explored the drama of American life from the late 19th century to the 21st, including Ragtime, The Book of Daniel and Billy Bathgate.If you enjoyed Ragtime, you might like John Dos Passos' U.S.A., also available in Penguin Classics.'In its perfection it stuns and holds from beginning to end'Daily Mail'Witty, lyrical, put together with admirable craft ... dazzling economy and insight ... Mr Doctorow knows what he is doing and has done it beautifully'Guardian'One of the best American novels for years'Economist
Information
Format: Paperback
Pages: 288 pages
Publisher: Penguin Books Ltd
Publication Date: 02/02/2006
ISBN: 9780141188171
Other Formats
EPUB from £4.99
Hardback from £18.09
Free Home Delivery
on all orders
Pick up orders
from local bookshops
Reviews
Showing 1 - 4 of 4 reviews.
Review by edwinbcn
16/06/2015
Traditionally, historical fiction places fictional characters and fictional events against a background of historical fact, or historical figures against a historical background embellished with fictional detail. Suspense is achieved by expectation and the enjoyment of what the reader already knows about history and the new elements introduced in the novel. E.L. Doctorow's novel Ragtime is quite different, in the sense that historical and fictional characters and events intermingle in a way which blurs the division between history and fiction.Few readers will be fully aware of American history between 1906 and 1914, the historical period in which the novel is set, although this may be different for future readers, once this period is more closely studied and more history books appear about the first quarter of the Twentieth Century. Still, many historical characters in the novel are familiar, such as Harry Houdini, J.P. Morgan, and Archduke Franz Ferdinand of Austria. They also help to anchor the story in time. Other, less well-known historical characters can be identified by the way they are described, such as Emma Goldman, and Evelyn Nesbit. The fictional characters, mostly having no name, merely indicated by Father / Tateh, Mother / Mameh, Mother's Younger Brother / Little Girl, makes them iconic or everyman characters.With limited knowledge of the period, the reader is at the mercy of the author. Some events are likely and believable, such as Emma Goldman's lecture and the ensuing riot. However, other events are highly unlikely, and typical of postmodern fiction, such as the pornographic scene in which Mother's Younger Brother follows and peeps from a closet at Emma Goldman and Evelyn Nesbit's lesbian romp (p.54). The history of the third family, the African-Americans, is confusing because they have names, which pulls them into the realm of the "historical figures" while obviously their actions are fictitious.While the non-academic reader has some urge, initially, to look up characters, -- now, in the age of Internet and Wikipedia so much easier than in 1975, when the novel was first published, the myriad of characters and events is so dense that one is coerced into giving up that urge and go with the flow of the novel, wondering about the likelihood of events. Reading in that mode, the novel's sweeping scale makes for a very enjoyable read.
Review by roblong
16/06/2015
This is a great book. Everything in it works - the tone is well judged, humorous and brutal at turns, and the narrative is built steadily and flawlessly, never rushed or drawn out. It moves between fictional characters and real figures (Houdini and Morgan in particular are major characters in the book) seamlessly without feeling forced or for a moment false. I loved it.
Review by Eyejaybee
16/06/2015
A very entertaining tale of life in three different families in early twentieth century New York, using fictional characters alongside figures such as Henry Ford, J. P. Morgan and Sigmund Freud.The writing seemed rather stilted and cumbersome, and at times I had to wonder whether Al Alvarez, who wrote the introduction to this edition within the Penguin Modern Classic series, had read the same text as me. However, the story works well despite the stylistic inadequacies, and it certainly held my attention.
Review by OscarWilde87
27/08/2015
Published in the 1970s, <i>Ragtime</i> by E. L. Doctorow is set in and around New York City about 1900. While it is a fictional novel it includes historical figures such as Henry Ford, Harry Houdini, J. P. Morgan, and Booker T. Washington. But what is it about really? Actually, I can only give an attempt to answer this question. The narrator is a boy in his adolescence who talks about what is going on in his family, the members of which are aptly named 'Father', 'Mother', 'Grandfather' and 'Mother's Younger Brother'. But then again there is way more to the novel. This is especially true when an abandoned black baby comes into the family with his mother Sarah. Soon thereafter, Coalhouse Walker, a black musician, continually visits the family to see Sarah and the child. With the arrival of Coalhouse Walker the story slowly starts to unfold and the family's life is put to a test. One day, Walker is stopped on the street by a group of racist firemen who block his way and start to hassle him. They damage his car solely based on their belief that black people should not be wealthy. After this incident, Coalhouse seeks justice and wants to have his car restored to him. Since it is no use to trust in law enforcement and judicial assistance, Coalhouse Walker sees violence as his only means of exerting pressure on the city and to get his car back fully restored. He soon finds a group of followers, among them 'Younger Brother', who enter J. P. Morgan's library and threaten to blow it up.While one could say much more about the plot of <i>Ragtime</i>, I find it rather hard to make up my mind of how I like it. Judging by my reading progress I'd say the novel became much more interesting, once the Coalhouse incident happened. At least that is when my reading pace started to pick up. Before that, the novel was not uninteresting but it was a bit tedious to read. Generally, there were a lot of episodes I liked, for example the one with Sigmund Freund and his colleague Jung who visit an amusement park in Coney Island. But then again there were also many parts I had to struggle through and which were just not my cup of tea. This is not so much due to the writing, which is simple at times but generally very readable, but more to the subject matter, I guess.On the whole, because of its ups and downs, three stars.
Also in the Penguin Modern Classics series | View all