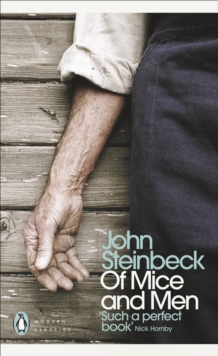 Of Mice and Men
Paperback
Description
Drifters in search of work, George and his childlike friend Lennie, have nothing in the world except the clothes on their back - and a dream that one day they will have some land of their own.
Eventually they find work on a ranch in California's Salinas Valley, but their hopes are dashed as Lennie - struggling against extreme cruelty, misunderstanding and feelings of jealousy - becomes a victim of his own strength. Tackling universal themes of friendship and shared vision, and giving a voice to America's lonely and dispossessed, Of Mice and Men remains Steinbeck's most popular work, achieving success as a novel, Broadway play and three acclaimed films.
Information
Format: Paperback
Pages: 128 pages
Publisher: Penguin Books Ltd
Publication Date: 26/01/2006
ISBN: 9780141023571
Other Formats
Hardback from £10.00
Paperback from £6.09
EPUB from £4.99
CD-Audio from £12.65
Free Home Delivery
on all orders
Pick up orders
from local bookshops
Reviews
Showing 1 - 5 of 16 reviews.
Previous | Next
Review by snowkid
16/06/2015
Of Mice and Men by John Steinbeck is about two friends who are just trying to get their couple acres of land to live on. These two friends, George and Lennie are dreamers, George knows that they probably not going to be able to get their farm but he keeps a positive attitude and believes that if they work hard on a ranch and don't spend any of their money, that they could get their farm in a month or two. The other friend Lennie however is not as smart as most people, that is what makes their friendship so great, George is smart and he looks after Lennie, because in the words of Crooks "a guy goes nuts if he ain't go nobody. Don't make no difference who the guy is, as long as he is with you (Steinbeck 72-72). So the story sets out that George and Lennie are going to try to work on a ranch and make as much money as they can so they can get their farm, however Lennie has a tendency to have accidents, which may keep them from getting their paradise. Of Mice and Men is absolutely perfect for the topic of dystopia and utopia. George and Lennie are always striving to get to their farm or their utopia. But things keep happening because Steinbeck's reality is dystopia. Steinbeck shows us how harsh reality can be by showing us how dreams get stamped out by reality. George and Lennie are optimists thinking that they will be able to get their farm if they stay on track and make enough money. George's and Lennie's role in this novel is one of naivety; they think that the world is a much better place than it is. But Steinbeck crushes it out of them, with the accident, showing that reality was never going to let them have their farm. I have to say that this is an incredible book, I read the whole thing the night I bought it, I just couldn't put it down. It was just so well written that it made me keep reading on because I just had to know whether or not George got his farm, I of course won't give up the ending but I do have to say that I was rather disappointed with the accident that Lennie had, I really wanted it to work out for George and Lennie but I guess that's the whole point of the book. Steinbeck wants you to want George to get his farm so that you are just that much more disappointed with the ending. I would recommend it, it was an excellent book but the ending is not one for the faint of heart so beware.
Review by kthclark
16/06/2015
This is a short and enjoyable novel that illustrates the difficulty of the uneducated poor and their attempt to better their lives. It also condemns the harsh brutality of farm owners who cared nothing for the men by whose sweat and blood they obtained and retained the profits from their farms. This novel has a high interest level and low reading level. This is a great book for students in the 8th or 9th grade. The vocabulary level for this book is approximately at a 5th grade level. Many schools (including mine) have this novel as part of the required in our English classes.
Review by laudemgloriae
16/06/2015
The characters in this novel are stunning, because Lenny's innocence is so charming, and George demonstrates such an unexpected selflessness that hinges solely on love for the good of Lenny, when he gets nothing in return, and lives in a situation where it is simply expected that you only worry about yourself.
Review by pinklemonademailman
16/06/2015
This is a short novel about two farmhands trying to achieve their dream of owning a farm. One is george,who is witty, and Lennie, who is large, strong, and not all that bright. They get work on a farm, and Georgge spends most of his time looking after Lennie to keep him out of trouble.
Review by TooAwesome
16/06/2015
This book is good for people who are looking for a good story and a quick read. The book is about two guys looking for work during the Great Depression and end up on a farm. One of the guys has a mild mental disability which causes problems for both of them. I enjoyed this book and even though I don't like to read it was easy and the story had an amazing ending.