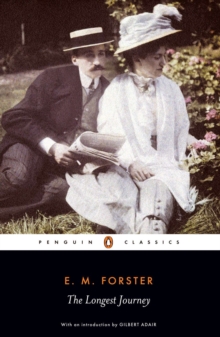 The Longest Journey
Paperback
Description
Rickie Elliot, a sensitive and intelligent young man with an intense imagination and a certain amount of literary talent, sets out from Cambridge full of hopes to become a writer.
But when his stories are not successful he decides instead to marry the beautiful but shallow Agnes, agreeing to abandon his writing and become a schoolmaster at a second-rate public school.
Giving up his hopes and values for those of the conventional world, he sinks into a world of petty conformity and bitter disappointments.
Information
Format: Paperback
Pages: 432 pages
Publisher: Penguin Books Ltd
Publication Date: 29/06/2006
ISBN: 9780141441481
Other Formats
EPUB from £12.47
Hardback from £15.79
Paperback from £10.65
eAudiobook MP3 from £16.76
Free Home Delivery
on all orders
Pick up orders
from local bookshops
Reviews
Showing 1 - 4 of 4 reviews.
Review by wordygirl39
16/06/2015
Not my favorite of Forster's works, but I liked it. Said to be his most autobiographical, the POV feels a little thin between narrator and author which gives the work a journal feel. I found it very sad and a little pointless overall, but as with all Forster's writing, some of the individual lines stun. The book's atmosphere lingered, too, which always tells me there's more to the writing than I first believe. I'll read this again someday.
Review by branful
16/06/2015
Description of Agnes is quite convincing; materialistic, assertive and tricky. You should avoid this kind of nagging woman. Forster should be praised for the creation of such distinct character. Ricky appears quite comfortable when he is surrounded by trustable gentlemen. Heroes of Soseki Natsume acted similarly.
Review by P_S_Patrick
16/06/2015
This novel starts off in Cambridge, where the main character, Rickie, is an undergraduate. Philosophical discussions are held, and nature is appreciated. The main character is sensitive, with literary inclinations, and a partially crippled foot. After Cambridge, Rickie is followed through life and unto his death, with marriage, employment, and family goings-on filling the interval.The emphases of the novel are nature, human nature, emotions, class, poetry, art, philosophy, and family. Though the dramatic plot and characterisation were pretty good, it is the literary style and the ideas in this book that I most enjoyed. Some novels feel like they take ages to read, but this one seemed to be gone before I knew it, and felt far shorter than its 300 odd pages. This is usually a good sign.
Review by bookworm12
16/06/2015
Rickie Elliott is a Cambridge student and a struggling writer. After becoming infatuated with an engaged young woman, Agnes Pembroke, his quiet life is changed forever. The two end up married and Rickie takes a position as a schoolmaster. Soon Rickie learns Agnes' true nature, which is drastically different from his own. The Longest Journey feels like an author's early work, full of idealistic young men and good concepts, but characters that sometimes fall flat. It was the second book Forster published and though his talent is still plainly obvious, it certainly improved with time. The characters feel more like ideas of people than individuals with complex interests and flaws. Forster also has a tendency to kill characters with little fanfare. If someone is going to die in one of his books there is never much warning or fuss about it.I love the writing style, but I wouldn't recommend it for those new to Forster. If you're already a fan, pick it up, but Howard's End and A Room With a View are both better introductions to the author.