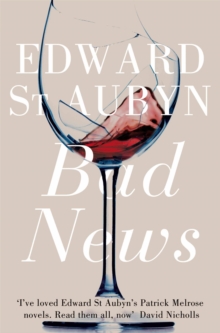 Description
THE SECOND PATRICK MELROSE NOVEL. Twenty-two years old and in the grip of a massive addiction, Patrick Melrose is forced to fly to New York to collect his father's ashes.
Over the course of a weekend, Patrick's remorseless search for drugs on the avenues of Manhattan, haunted by old acquaintances and insistent inner voices, sends him into a nightmarish spiral.
Alone in his room at the Pierre Hotel, he pushes body and mind to the very edge - desperate always to stay one step ahead of his rapidly encroaching past.
This title was originally published, along with Never Mind and Some Hope, as part of a 3-book package, also called Some Hope.
Information
Format: Paperback
Pages: 256 pages
Publisher: Pan Macmillan
Publication Date: 01/04/2012
ISBN: 9781447202950
Free Home Delivery
on all orders
Pick up orders
from local bookshops
Reviews
Showing 1 - 4 of 4 reviews.
Review by kishields
16/06/2015
Best writing I've read describing the thrills and perils of drug addiction in NYC. The continuing story of Patrick Melrose and his now-deceased father is as funny and witty as it is sad and frightening. Patrick has retrieved his father's ashes but regrets never having achieved a proper act of revenge. Their relationship cannot end, even once the giant is slain. Beautiful, brilliant prose captures the ups and downs of Patrick's brief trip to and from the city, doled out in journeys to dealers and restaurants, and quick fixes followed by corrective adjustments to his high in restrooms and a hotel suite at the Pierre. Highly recommended.
Review by hazelk
16/06/2015
My low rating for this novel is mainly because I was disappointed by it after enjoying the first of the Patrick Melrose novels. In fact I didn't finish it. It wasn't because of the quality of the writing but because I felt so alienated by the subject matter. Drug addiction has so much specialised terminology associated with it that I simply got bored with Patrick's days in New York in obtaining the various Class A substances. I can see that the writing is 'good' but that didn't help me get into the novel.
Review by nivramkoorb
16/06/2015
Having read the previous Patrick Melrose novel, I am aware of this books context of part of an ongoing story. As such, it is a bit unfair to give it separate review. However, I did not enjoy this as much as the first novel because of the subject matter. There is no denying the excellence of St. Aubyn's writing. His depiction of addiction is very scary and should be used as a primer on not getting started with hard drugs. This book should only be read as part of the Patrick Melrose novels.
Review by kidzdoc
16/06/2015
The second novel in Edward St. Aubyn's Patrick Melrose series corresponds with the trauma that followed the author's childhood, which led him to become addicted to heroin between the ages of 16 and 28. In this novel, Patrick Melrose, St. Aubyn's alter ego, is now aged 22, and he travels to New York City for a brief visit to claim his father's body after he died suddenly there. Patrick's crippling and all encompassing addiction to heroin, cocaine and a bevy of other medications is the main theme of the novel, and this reader was amazed by the massive amount of drugs that Patrick consumed, the use of one drug to counteract the effects of another, and the utter depravity that he had fallen into. The account comes across as authentic, and it was obvious to me that St. Aubyn had lived through or witnessed events such as these as a young adult. Included in this novel are tedious dialogues with several Britons who mourn David's death, while they engage in maudlin admiration for him, their dying breed, and their own trivial accomplishments and acquisitions.
Also in the The Patrick Melrose Novels series | View all