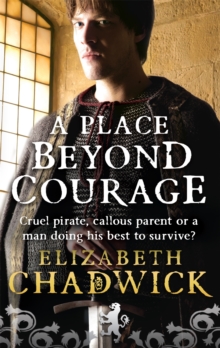 A Place Beyond Courage
Paperback
Description
The early twelfth century is a time for ambitious men to prosper - and royal servant John FitzGilbert is one of them.
But when the old king dies and his successor is appointed, John's position at court is weakened and his wife, the pious, pliant Aline, is hopelessly unequipped to deal with a life lived on the edge.John knows the only way to protect his lands and his children is to divorce Aline.
He meets his match in new wife Sybilla, daughter of his enemy Patrick of Salisbury, as she possesses a strength and courage that equals his own.
But when Sybilla's son, William, is seized by the king, John is forced to make a terrible sacrifice.
Sometimes keeping your honour means breaking your word . . .
Information
Format: Paperback
Pages: 560 pages
Publisher: Little, Brown Book Group
Publication Date: 16/10/2008
Category: Historical fiction
ISBN: 9780751539011
Free Home Delivery
on all orders
Pick up orders
from local bookshops
Reviews
Showing 1 - 4 of 4 reviews.
Review by Misfit
16/06/2015
This is a prequel of sorts to The Greatest Knight, and is the story of John FitzGilbert, the father of William Marshal. The story takes place amidst the backdrop of England's civil war between Henry's daughter Matilda and her cousin Stephen who usurped her crown, as John tries to juggle his perilous position between the two rivals for the crown. John's first marriage to Aline (the best he could make at the time in his position) does not fare well as she is weak of mind as well as spirit, and when he chooses to side with Matilda he makes a more advantageous marriage with Sybilla, who bears John several children including William. The characterization of John started from a cat that always lands on his feet to a loving husband and father, facing the most difficult decision of his life. The author did a marvelous job of bringing John, Aline and Sybilla to life, and most especially young William. I was totally entranced at the way William was portrayed, from his exuberant first word to his innocent knowledge of the danger he was in whilst being held hostage by King Stephen. While this is not a page turning, sit on the edge of your seat, action filled novel, I was thoroughly entertained throughout. As always with Chadwick's books, the way she brings the medieval period to life in such a graceful and effortless way, be it the sights, sounds, smells, food, clothes and battles is just awesome. As quoted on some of her book jackets, the next best thing to time travel.
Review by john257hopper
16/06/2015
A good page turner, though lacking somewhat the impact of her brace of novels on William Marshal. The portrayals of John Marshal's two wives illustrate the difficulties in portraying realistic female Medieval characters, being absolute opposites, Aline a complete wimpering, wet blanket, while Sybilla is, a strong, yet sensitive, capable, stunning sexpot. Still, a good read and the William hostage incident has the same impact as it did in Sharon Penman's When Christ and his Saints Slept.
Review by Glorybe1
16/06/2015
I must say I was quite disappointed in this book, it was more of a romance with a bit of history thrown in. The Blurb on the back promised so much but the book failed to deliver. The title would make think that this was a book of pace and adventure, believe me it wasn't. If you enjoy romantic wishy washy females and strong manly men you may like it! Sadly I am not so keen!
Review by Elysianfield
16/06/2015
I wasn't really familiar with John FitzGilber (father of William Marshal) before I read yhis book so it was interesting. I think the first part of book was little boring, mainly because I didn't like Aline. But after John married Sybilla the book kept getting better. Hence the 3 stars...
Also in the William Marshal series | View all