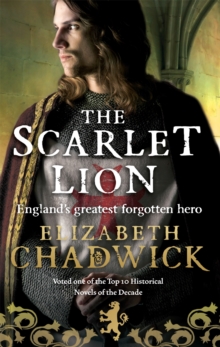 The Scarlet Lion
Paperback
Description
William Marshal's prowess and loyalty as a knight in the English royal household has been rewarded by marriage to Isabelle de Clare, heiress to great estates in England, Normandy and Ireland.But their contentment and security is shattered when King Richard dies and is succeeded by his brother John, who takes the Marshals' sons hostage and seizes their lands.
Now William must face the conflict between remaining loyal or rebelling against these injustices - and the struggle threatens to tear his marriage apart.
Fiercely intelligent and courageous, Isabelle too must come to terms with what the future holds . . .The Scarlet Lion is the final novel in an unforgettable standalone trilogy about William Marshal, Earl of Pembroke, Regent of England - and one of the country's greatest forgotten heroes.
Information
Format: Paperback
Pages: 608 pages
Publisher: Little, Brown Book Group
Publication Date: 05/05/2007
Category: Historical fiction
ISBN: 9780751536591
Free Home Delivery
on all orders
Pick up orders
from local bookshops
Reviews
Showing 1 - 5 of 9 reviews.
Previous | Next
Review by ancestorsearch
16/06/2015
One thing I know when I read an Elizabeth Chadwick novel I will step back in time and immedialty get lost in the story and the characters. The book, although a standalone, continues the story of William Marshal from her first novel The Greatest Knight. The story opens up during the reign of King Richard I. Marshal an honoroable knight and his wife Isabelle are happily married and immedialty start a family. Soon King Richard dies and his succsessor is King John. Marshal and King John are constantly at odds. He toys with Marshal by taking away some of his lands, he constantly tries to unnerve him, but regardless Marshal remains honest and loyal. King John eventually ask Marshal to hand over his eldeset soon which causes a rift between husband and wife, and not long will ask for his second soon too. Isabelle knowing the stories of life at court fears that her sons will be taken down the wrong path. Marshal assures her they will be safe and make the correct choices. Marhsal knows that he needs to be careful with two sons at court he walks a fine line between obeying and defying John. The eldest son is played by King John and eventually believes his father to be weak since he will not stand up to King John, Richard on the other hand understands his fathers motives. Soon Will marries and mellows slightly, but a tradgey occurs that sets him on the path against his father and King John. Due to Will's betrayel father and son end up on the battle field Marshal remains stoic when dealing with his son's indifference, but deep down wants to reach out to him. Isabelle remains distraught over her son's misfortune, but she is unable to win him over. Throughtout the story Marshal is able to retain his honour and respect of his peers. When King John dies it is Marshal is asked to lead the country, acting as regent to the young Henry III. Elizabeth Chadwick brings historical fiction to life for me and she does a great job she has a few pages at the end explaining what she knows as fact and where she had to improvise.
Review by john257hopper
16/06/2015
A fine, action-packed and colourful continuation of the story of William the Marshal. The characters all seem are convincingly portrayed and not mere historical ciphers. The ending will have you in tears.
Review by lindymc
16/06/2015
I loved The Greatest Knight about William Marshall's early life and wouldn't have tho't any book could be better, but this one about Marshall's life after his marriage to Isabelle is even better! Throughout most of this book, Marshall is at odds with his king, John, who cannot, or will not see things for what they are. Marshall remains loyal because he has sworn his fealty to John in spite of John's failures as a sovereign lord. John tries to manipulate everyone around him for selfish and egotistical reasons. When John demands William's sons as hostages, it causes stress within William's marriage. But in spite of everything, and because of the absolute integrity of William Marshall, love and loyalty win. What an absolutely wonderful novel, about a true hero. I wish I were better at writing one of these reviews. I can't do justice to how great this novel really is.r
Review by abruno
16/06/2015
Regular readers of this blog are sure to know about my literary love for Elizabeth Chadwick novels. So, it was with great delight that I settled in to read about the next chapter in William Marshall's life, in The Scarlet Lion. The Scarlet Lion covers the latter half of William's life, where he is once again thrust into a role he would rather not play, but where his sense of honor and duty compel him to act. When King Richard I dies William is one of the first to pledge his loyalty to the new king, John. But John doesn't have any liking for William and makes sure he knows it. William has to walk a very thin line with John and his infamous Angevin temper.Meanwhile at home, Isabelle is continually in the birthing chamber as their brood expands to 10. Yet, she is aching to go back to her homeland of Ireland and to reclaim her de Clare family inheritance. This issue will serve as a point on contention and even rift in their otherwise tight marriage. And those aren't the only lands that the Marshalls are fighting for. As William has lands in both Normandy and England, he is in between a rock and a hard place when King Philip of France asks William to pay homage to him for his land in France, which would mean that William would have to fight for the French if there were ever a war between the two countries. Needless to say, King John doesn't much like this and if there was ever a king you should not piss off, it would be King John. We've all heard of the Angevin temper, but John takes it to a whole other level – he is just plain evil and there were many times I wanted to jump through the pages and just throttle him. I was kinda hoping EC would throw in a scene where Isabelle would lay him out flat with one punch!While not as action packed as The Greatest Knight, unless you count all the action on the marriage bed and then the birthing chamber, it is none the less engrossing and entertaining. William and Isabelle are great fun to read about and I am so glad that I had the chance to know about their lives.Brilliantly weaving a strong plot line, historical accuracy, depth of character and dialogue filled with intelligence and wit, is why Elizabeth Chadwick novels is one of the very best of historical fiction authors.
Review by Kasthu
16/06/2015
At the end of The Greatest Knight, we saw William Marshal become one of the most powerful men in England, and married to Isabelle de Clare. The Scarlet Lion is a continuation of that novel, and in it we witness the evolution and growth of the Marshal family under the reign of King John and his son Henry. In this novel, Isabelle takes over part of the story. The books are standalone novels, but they're best appreciated when read together or as near together as possible.I enjoyed The Scarlet Lion, but not as much as I enjoyed The Greatest Knight. It was partially because I felt that William's story melted into the background in favor of Isabelle's and his children's. And I felt as though the author basically shrugged off the Magna Carta, turning it into a one-paragraph non sequitur. Nnetheless, I greatly enjoyed this book, for many of the reasons why I ejoyed its predecessor.Isabelle is by far the most likeable character, strong in the face of adversity. Elizabeth Chadwick writes about the early 13th century in a way that makes the politics of the period seem uncomplicated—no small feat. Fact and fiction are pretty seamlessly woven together in this novel. As always, Chadwick's knowledge of the medieval period is spot-on, and she makes people who have been dead for 800 years seem as though they've only been gone since yesterday. As Chadwick says in a note at the end of the novel, William Marshal's accomplishments were outstanding by the standards of any age, and I can definitely see why; he and Isabelle and their children fairly leap off the page. Chadwick's writing style is engaging, and even though I knew how the story would turn out, I kept turning the pages rapidly, eager to know what would happen. I'm not sure why Elizabeth Chadwick's novels aren't more widely read, a shame considering how good her books are.
Also in the William Marshal series | View all