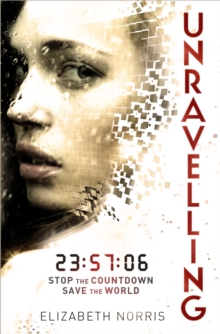 Description
24 meets the X Files in the biggest teen blockbuster of the summer...STOP THE COUNTDOWN.
SAVE THE WORLD...Leaving the beach, seventeen-year-old Janelle Tenner is hit head on by a pickup truck.And killed.Then Ben Michaels, resident stoner, is leaning over her. And even though it isn't possible, she knows Ben somehow brought her back to life...Meanwhile, Janelle's father, a special agent for the FBI, starts working on a case that seems strangely connected to Ben.
Digging in his files, Janelle finds a mysterious device - one that seems to be counting down to something that will happen in 23 days and 10 hours time.That something?
It might just be the end of the world. And if Janelle wants to stop it, she's going to need to uncover Ben's secrets - and keep from falling in love with him in the process...
Information
Format: Paperback
Pages: 416 pages
Publisher: HarperCollins Publishers
Publication Date: 01/06/2012
Category: Thrillers (Children's/YA)
ISBN: 9780007460212
Free Home Delivery
on all orders
Pick up orders
from local bookshops
Reviews
Showing 1 - 2 of 2 reviews.
Review by nicola26
16/06/2015
Unravelling was a book I initially had no interest in reading. But then the gushing reviews started popping up, and then I saw and loved the UK cover and finally, I won a copy of an ARC. So clearly I was meant to read this book and I'm so glad I did. It was fantastic! The books I give high ratings to are always the ones that I take days to actually read because I don't want them to end. That was definitely the case with Unravelling and I hated seeing the ending getting closer, which was heightened by the fact that the chapters showed the countdown to the end. A little detail that I really liked, actually.<br/><br/>Janelle may just be one of my favourite female protagonists of all time. There was just something about her voice that really resonated with me. If I haven't made this clear before, I love well-written snarky characters and just can't get enough of them. They make the reading experience a lot more amusing, especially when the character is also really intelligent, as Janelle was. I especially liked how kind and caring Janelle is despite everything life keeps throwing at her. She has a really close bond with her younger brother Jared mostly because she had to step up and parent him since their actual parents weren't doing too good in that department. She does get frustrated with it at times but mostly just does her best and gets on with it.<br/><br/>It is not often that I like a main character's best friend. Let's face it, when they're girls, they're made annoying probably just to make the protagonist seem even amazing. And when they're boys, they lust after the protagonist- again to make her seem even more amazing. But I loved Alex! He was such a sweetheart and an actual friend! I adored him right from the first time we met him and wish he'd been in it even more. And there's a scene with his mother that I found pretty comical too! Ben- the love interest- is a very different guy but just as brilliant. I enjoyed getting to know him and I think he'll have many readers crushing on him!<br/><br/>The plot itself moves at a perfect speed and had many twists that I really did not see coming which was awesome. But why am I not giving it a full five stars? Well it was depressing as hell. Seriously. The first half wasn't so bad but I got so weary of bad things happening after a while. It just felt so heavy and sad to me a lot of the time. Not that I can't give 5 stars to sad books (I mean, The Road is an all time favourite) but I had just been wishing some things would go differently. Other than that though, this was a seriously amazing book and I will be recommending it to everybody!
Review by wyvernfriend
16/06/2015
Things all start when Janelle Tenner is killed by a truck, however she's saved by a boy, a boy she has noticed but has never seemed to notice her back. Now she's involved in a race against time to save the world, but can their romance survive.I liked this one, liked the characters and how they made hard decisions because they should, and weren't afraid to abide by those decisions. An interesting read that kept me wondering.
Also by Elizabeth Norris