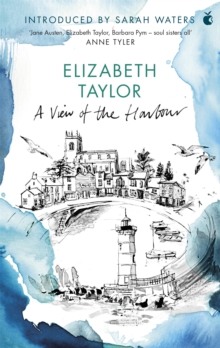 A View of the Harbour : A Virago Modern Classic
Paperback
Description
'Jane Austen, Elizabeth Taylor, Barbara Pym, Elizabeth Bowen - soul-sisters all' Anne TylerIn the faded coastal village of Newby, everyone looks out for - and in on - each other, and beneath the deceptively sleepy exterior, passions run high.
Beautiful divorcee Tory is painfully involved with her neighbour, Robert, while his wife Beth, Tory's best friend, is consumed by the worlds she creates in her novels, oblivious to the relationship developing next door.
Their daughter Prudence is aware, however, and is appalled by the treachery she observes.
Mrs Bracey, an invalid whose grasp on life is slipping, forever peers from her window, constantly prodding her daughters for news of the outside world. And Lily Wilson, a lonely young widow, is frightened of her own home.
Into their lives steps Bertram, a retired naval officer with the unfortunate capacity to inflict lasting damage while trying to do good.
Information
Format: Paperback
Pages: 320 pages
Publisher: Little, Brown Book Group
Publication Date: 06/04/2006
ISBN: 9781844083220
Other Formats
Hardback from £10.65
EPUB from £6.99
Free Home Delivery
on all orders
Pick up orders
from local bookshops
Reviews
Showing 1 - 5 of 8 reviews.
Previous | Next
Review by lauralkeet
16/06/2015
'Interesting,' he observed, 'what two people can make of the same view. We all see places a bit different to what the next man does. That stands to reason. (p. 309)Newby is an English seaside town a bit past its prime. The fishing trade has waned, and summer visitors are not as numerous as before the war. Taylor's imagery brings the scene to life: To the men on the boats the harbour was at first dingy and familiar, a row of buildings, shops, cafe, pub, with peeling plaster of apricot and sky blue; then as the boats steered purposefully from the harbour-mouth to the sea, houses rose up in tiers, the church-tower extricated itself from the roofs, the lettering on the shops faded and the sordid became picturesque. (p. 9)With this backdrop, A View of the Harbour focuses on the day-to-day events and relationships of the community. Like any small town, people spend a lot of time watching one another and gossiping. Characters are presented first at a distance, as viewed through a window by a neighbor. But Taylor also transitions seamlessly to first-hand accounts of each character, bringing detail, depth and emotion to each situation. Many events play out through the perspective of Bertram, a visitor who has supposedly come to paint the scenery, but manages to insert himself into the lives of several community members. As he becomes acquainted with various people, so does the reader. Women's friendships are a key theme in the novel. Beth, a writer and mother of two daughters, has been close friends with Tory, a vain and frivolous divorcee, since they were in school. Although these two women were close as children, now they have little in common but still turn to each other for support. And, sadly, each puts relationships with men ahead of their relationship with each other.I love Elizabeth Taylor's writing, which so vividly evokes the shabby seaside town and the recent impact of the war on its inhabitants. And her characters are "real people," that could be found anywhere. I am looking forward to reading more by this wonderful author.
Review by Liz1564
16/06/2015
A year in the life of some inhabitants of the seaside town of Newby Old Town somewhere on the English coast. Taylor keeps the location vague so it could be any number of towns with a seafront which has seen tourists disappear and folks relocate to the nearby new town with its cinema, shops and homes with decent plumbing. The people who are left by the harbour, tradesmen and a few middle class families, are the subjects of this character-driven novel.Nothing much seems to happen during this year. There is no great catastrophy, no life-altering event. An old woman dies, but then she has been bed-ridden for a long time. A middle-aged women relocates to London. A young woman suspects her father of having an affair.But the reader is allowed into the heads of these ordinary characters and that is where the magic begins. Tory Foyle, the middle-age woman is having an affair with her next door neighbor who happens to be the town doctor and the husband of her very best friend. Tory is lovely and still baffled that her former husband divorced her even though she provided him with a beautiful and ordered home, good meals, and a polite son. Her affair is joyless because Robert is a dull lover and the stolen moments of passion amount to kissing in the garage and sneaking time together before he goes home next door.The best friend Beth is an author who escapes into writing and finds her characters really more interesting than her family. She has produced one boring child who is twenly and a five year old who is manipulative. She is unaware of the infidelity right under her nose or is she? I got the impression that she chose not to "see" it because life was just more pleasant if Robert was occupied elsewhere. Then there is her daughter Prudence who seems a bit off. She is called beautiful but has no spark and, because her dad is unfaithful, she talks herself into rejecting love. Yet her favorite pastime is lying naked in bed and allowing her Siamese cats to rub against her body. Ironically she has a sort of beau who meets her in graveyards and reads her John Donne or his own really bad poetry.And then there are the other characters, equally important. Mrs Bracey, the obese dying old woman, seems at first to be just unpleasant and a burden to her daughters. But when she muses about her childhood and remembers magical days growing up by the harbour she becomes a geniune poet who missed her calling. Her girls, sensible Maisie who runs the family second-hand clothing shop and Iris who dreams that surely one day Noel Coward or Olivier will walk into the pub and offer the beautiful barmaid a screen test, do care about their demanding, bloated mother.Two others deserve mention. The outside observer, "artist" and retired naval officer Bertram Hemingway, fancies himself a fine painter if he can only bother to put paint to canvas. He is must more adept at kindly intruding into others lives only to leave them when he becomes bored. He has a courtly manner which charms some women, although others see him as a ridiculous old man. Finally there is the frightened youngish widow Lily Wilson who runs the Waxworks Exhibition with no success. She is scared of the figures of the murderers, mice in the walls, and of being alone. When Bertram draws her out and then drops her, she tries to carry on by going to the pub every night for her two drinks and companionship. But the only people interested in her are a French sailor who tries to sell her illegal perfume and an old librarian who urges her away from reading Lady Audley's Secret and hands her boring biographies. An unforgettable images is of Lily dusting the insides of the Duchess of Windsor's nostrils before the exhibit opens for the season.And because this is an Elizabeth Taylor novel there is a sense of the ridiculous. Prudence stinks up the house cooking cows' udders for her cats. Tory's sweet son describes life at school as being wonderful and then goes on to talk about bullying, falling out of trees and being afraid of having to get in a boxing ring. He signs his notes to his mother "Yours faithfully, E. Foyle!" Tory tries to squeeze Beth into a corset and dress her in stylish clothes for Beth's trip to London and the end result is that Beth is laced in so tightly that she cannot sit down! Bertram puzzles over the Mimosa cafe placard announcing "Fried God' for luncheon until he realizes that the "g" is really a fancy "c."In fifty years, the area around the harbour in Newby will be very fashionable prime real estate. The Waxworks Exhibition, the second-hand clothing shop, and the Mimosa cafe will be replaced by fancy boutiques and trendy restaurants. The pub will be redesigned and cater to the tourists who once again flock to the seaside. The fishermen with their slimy nets and smelly clothing will be long gone, and yachts will fill the basin. The lighthouse will endure, but without the keepers to tend the lamp. And the view of the harbour will keep changing.
Review by jennieg
16/06/2015
A tedious book about dull people in a boring town. I did not bother to finish this dog.
Review by brenzi
16/06/2015
We've all seen them: has-been sea-side resorts. They used to be THE place to go but over the years their charm has declined and their attraction has disappeared leaving behind a small populace of down on their luck, salt of the earth, hard-working people who care for each other in intimate ways. That's a description of Newby, an English coastal fishing village in the years following WWII that serves as the setting of Elizabeth Taylor's novel. It was her descriptions of this setting that initially drew me in:<i>"To the men on the boats the harbour was at first dingy and familiar, a row of buildings, shops, café, pub, with peeling plaster of apricot and sky blue; then as the boats steered purposefully from the harbour-mouth to sea, houses rose up in tiers, the church-tower extricated itself from the roofs, the lettering on the shops faded and the sordid became picturesque." (Page 5)</i>But it was her finely tuned characterizations that really made this novel stand out and will send me scurrying to look for more of her novels. Taylor used a simple formula to produce the devastating sense of loneliness that is her main theme. The forward in my edition points out that she allowed us into the minds of her main characters and utilized small vignettes to set the stage for their dilemmas with frequent breaks to other characters. It was incredibly effective.Many of the characters are suffering lasting effects from the war. Tory (Victoria) Foyle, a divorcee whose husband fell in love (and married) a female officer he met while serving in the war, is having an affair with the town's doctor who just happens to be married to Tory's best friend, Beth, a novelist who is so wrapped up in the world she is creating that she's unaware of events happening in the world that actually surrounds her. Tory's son Edward is away at boarding school, suffering from home sickness that his mother doesn't recognize or appreciate, and aching for his father. The widow Lily Wilson, cannot get used to the isolation being alone brings and dreads returning to her flat behind the wax museum she and her husband, lost in the war, used to run. Mrs. Bracey, bedridden and the neighborhood gossip, enthroned at her perch at her bedroom window where she:<i>"sat in judgment. Guilt she saw, treachery and deceit and self-indulgence. She did not see, as God might be expected to, their sensations of shame and horror, their compulsion towards one another, for which they dearly paid, nor in what danger they so helplessly stood, now, in middle-age, not in any safe harbour, but thrust out to sea with none of the brave equipment of youth to buoy them up, no romance, no delight." (Page 208)</i>These three women and retired sea captain, Bertram Hemingway, are the main characters. He has arrived at the village to paint the lovely scenes that his imagination has a hard time transferring to easel because he can't capture the shifting light. Taylor also manages to create supporting characters that are crucial to the plot and the theme. The doctor and Beth's daughter, Prudence, adolescent and socially awkward, is important for much of the action, as are her parents. And Mrs. Bracey's daughters, Iris and Maisie, although totally dominated by their mother, contribute to the idea that everyone is waiting for their mother to die. Elizabeth Taylor has captured the essence of loneliness in this stunning portrait of life in a post WWII English fishing village. Highly recommended.
Review by -Cee-
16/06/2015
A different kind of book focusing on a handful of characters living in an old fishing village in England. The town is dying and those left are remnants of a by-gone era. Lots of introspection, judgement, and speculation paint a sad picture of what this town and its people have become. You begin to wonder if any of the townfolk can be saved from themselves.The writing is wonderful. It starts out scattered and all comes together like a woven tapestry. Even better, there are lots of zingers in what this author wants you to think about and notice. I loved several quotable passages - this following being one of my favorites:"The day comes in slowly to those who are ill. The night has separated them from the sleepers, who return to them like strangers from a distant land, full of clumsy preparations for living, the earth itself creaking towards the light."Not action-packed - no violence, sex, or superheros- this is a perceptive look at what it is to be human in a forgotten little town. Slowly unfolding, but not boring...
Also in the VMC Designer Collection series | View all