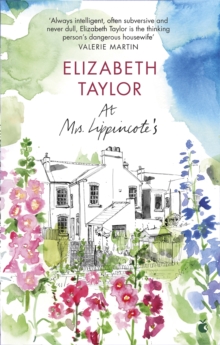 At Mrs Lippincote's
Paperback
Description
Shortlisted for the Booker Prize.Mrs Lippincote's house, with its mahogany furniture and yellowing photographs, stands as a reminder of all the certainties that have vanished with the advent of war.
Temporarily, this is home for Julia, who has joined her husband Roddy at the behest of the RAF.
Although she can accept the pomposities of service life, Julia's honesty and sense of humour prevent her from taking her role as seriously as her husband, that leader of men, might wish; for Roddy, merely love cannot suffice - he needs homage as well as admiration. And Julia, while she may be a most unsatisfactory officer's wife, is certainly no hypocrite.
Information
Format: Paperback
Pages: 224 pages
Publisher: Little, Brown Book Group
Publication Date: 06/04/2006
ISBN: 9781844083091
Free Home Delivery
on all orders
Pick up orders
from local bookshops
Reviews
Showing 1 - 4 of 4 reviews.
Review by rainpebble
16/06/2015
Elizabeth Taylor's writing is always exquisite but somehow I found At Mrs Lippincote's lacking. The characters were uneasily liked and the story quite dreary. I liked Oliver, Felicity and Mr. Taylor. The others I found rather boring and lifeless. I think that I found in this book the same things that I find so often in Elizabeth Berg's books: The boredom and sameness of daily living. At times I can find that extraordinary and charming but sadly in this book I did not.I will try another of hers next month. I rated this one (2*)My favorite quote of [At Mrs Lippincotes] is:"No one could remember. "One of the best meals I ever at in my imagination was the Boeuf indaube in To The Lighthouse," said Julia; "I see it now and smell it---the great earthenware dish and its" (she closed her eyes and breathed slowly) " 'its confusion of savoury brown and yellow meats, and its bayleaves and its wine' ".They laughed at her and she took up a spoon and was surprised that the taste was of fruit, not meat."Virginia Woolf is a little too modern for me, " said thewing Commander. She has not stood the test of time. She has not been approved by posterity.""We have none of us been that," said Julia. But we can still enjoy a meal."Our Winged Commander had some pretty big kahunas to speak of our beloved Ms. Woolf in that regard.~belva
Review by Marensr
16/06/2015
Elizebeth Taylor has a way with words, a way of phrasing sentiments one has felt but never expressed so well. She is splendid at dissecting the scenes of ordinary life with all their frustration and boredom. In At Mrs. Lippincote's she shines a brilliant lamp on the lives of Julia Davenant and her RAF husband Roddy, their son Oliver and Roddy's cousin Eleanor. Stationed out of London during World War II, they stay at the furnished home of Mrs. Lippincote, but the strangeness of living in someone else's home seems to reflect the strangeness and drabness of the trappings of ordinary life: a dirty white coat, a child's illness, or a cheap porcelain swan.Some of the best scenes revolve around the way the child Oliver blends the world of the books he reads with the world around him, freely mixing fantasy with dull reality.She reveals the inner lives of her characters in short scenes and much like life does not attempt tidy resolutions but allows her stories to breath in glorious messiness. At the same time, her own choice of words has the precision of a scalpel pulling back layers with deft flicks of her wrist. She is well worth being rediscovered.
Review by drmarymccormack
16/06/2015
I read this book purely because I saw it recommended so many times while reading the Virago Group threads. So I guess it's my first intentional Virago. It's not a "pleasant" book. There are few sympathetic characters but one is drawn to them all the same. The protagonist is a pragmatic housewife, Julia, who finds herself living in a billetted home in a small village. She's a bit too cynical for my taste. She seems so removed from the people around her. You know that old saying, bored people are boring themselves, it seems to apply here. I love her son, Oliver. He's funny and smart. I love that Taylor makes him an avid reader and he lives in the stories he's reading. Oliver feels like such a "real" character, nicely written. The communist group is hillarious and I think very British. I can't imagine an American book containing such a sympathetic tone toward a goup of what we (Americans) would call subversives. In an American version the communists would be portrayed as bumbling idiots or evil villains, certainly pejoratively. It's weird to read a book which handles this political ideal so lightly. I think it would have sunk an American novel if it were written in the 1950s. The husband, Roddy, is not a very fleshed out character. Even at the end I wasn't sure what Roddy's motives were. He is just a phony jerk. I liked the Wing Commander in the story, another Bronte lover and romantic. All in all, a wonderful book and I'll be looking to start a new Taylor novel soon.
Review by janeajones
16/06/2015
It's the centenary year of the British novelist Elizabeth Taylor, and the Virago group is reading one of her books a month.<i> At Mrs. Lippincote's</i>, 1945, is Taylor's first published novel. It relates the sojourn of a junior officer's family posted to the suburbs after the Blitz has begun in London. Roddy busies himself with meetings and officer gatherings; his wife Julia flirts with the Wing Commander and Mr. Taylor, a displaced London restaurateur cum waiter; their 7-year old frail son Oliver reads British classic novels; and Roddy's cousin Eleanor, a teacher, is drawn into a communist circle. While the book is a brilliant novel of manners, I had rather mixed feelings I'm afraid. Taylor writes incredible descriptions and wonderfully precocious children. It's a really naturalistic, "slice-of-life" novel that see-saws from the humorous to the cynical. I can't say I liked any of the characters, except the children. They all seem incredibly narcissistic and pretty shallow. Probably quite true to life -- but finally I just didn't care about them, and nothing much happens besides the death of poor Mr. Taylor (odd that she would give him her own name) and the revelation of Roddy's infidelity. I've read a couple of later Taylor novels that have a bit more substance, but her gift is in capturing life in a moment of time.
Also in the Virago Modern Classics series | View all