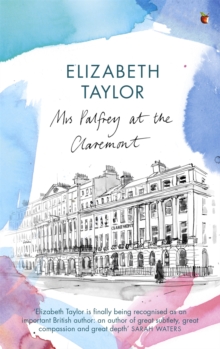 Mrs Palfrey at the Claremont : A Virago Modern Classic
Paperback
Description
On a rainy Sunday in January, the recently widowed Mrs Palfrey arrives at the Claremont Hotel where she will spend her remaining days.
Her fellow residents are magnificently eccentric and endlessly curious, living off crumbs of affection and snippets of gossip.
Together, upper lips stiffened, they fight off their twin enemies: boredom and the Grim Reaper.
Then one day Mrs Palfrey strikes up an unlikely friendship with an impoverished young writer, Ludo, who sees her as inspiration for his novel.
Information
Format: Paperback
Pages: 208 pages
Publisher: Little, Brown Book Group
Publication Date: 06/04/2006
ISBN: 9781844083213
Other Formats
Hardback from £9.85
EPUB from £5.99
Free Home Delivery
on all orders
Pick up orders
from local bookshops
Reviews
Showing 1 - 5 of 17 reviews.
Previous | Next
Review by verbafacio
16/06/2015
Mrs Palfrey at the Claremeont is a funny and sad look at the lives of older people. Mrs Palfrey moves into the Claremont Hotel, at which a begrudging manager offers reduced rates to elderly people, to spend her last years. There she finds a handful of other seniors, each of whom deals with his or her reduced circumstances in a different way -- dirty jokes, constant twittering, self agrandisement, alcohol. The characters aren't particularly sympathetic, but it's hard not to be drawn in.
Review by postcuspbooks
16/06/2015
A penetrating look at how elderly English ladies think. Beautiful writing and observation. Sad, but she never loses her dignity or our respect - unlike some of the other characters.
Review by lycomayflower
16/06/2015
Markedly both delightful and depressing. Taylor's attention to detail and her gentle depiction of these characters was lovely to read, but at the same time, the loneliness and quiet despair of the residents of the Claremont was painful, sometimes almost to the point where I didn't really want to continue with the book. I was also slightly annoyed--maybe not with these particular characters, because Taylor paints them so sympathetically that I can hardly be cross with them, but maybe just in general--at the sort of "waiting to die" attitude of Mrs Palfrey and the others. I can't quite imagine getting to my old age and suddenly not being genuinely interested in something--the Claremonters seem only to do things (reading, knitting, playing games) because they pass the time. Perhaps this reaction is telling--surely no one expects, at twenty-nine, that she will spend the last years of her life alone, lonely, and bored. Perhaps it is precisely that annoyance in the young with such an attitude in the old that makes <i>Mrs Palfrey at the Claremont</i> so poignant.
Review by debnance
16/06/2015
Mrs. Palfrey checks into the Claremont Hotel. Her next stopwill be a nursing home and everyone knows what is after that. Mrs.Palfrey has had a small life, with few friends, but while she is at theClaremont, she makes some of the best friends of her life, including afriendship with a young man.
Review by raidergirl3
16/06/2015
First of all, it's not that Elizabeth Taylor. Elizabeth Taylor the author, 1912 - 1975, was British and wrote twelve novels and four short story collections. This Elizabeth Taylor has written a bittersweet story about aging, and loneliness, and finding friendship.Mrs Palfrey first came to the Claremont Hotel on a Sunday afternoon in January. Who goes to a hotel to live? Widows and widowers of a certain class and money, whose family won't take them in. Laura Palfrey and the others who live year round in the Claremont have their own appearances and habits to keep up, but they are in many ways just in a holding pattern, waiting to be moved to a nursing home, as they can't die in the hotel but are hanging on to their independence. Laura meets Ludo, a young writer, when she falls one day outside his home. She sees in him the attention her own grandson doesn't pay her, and he sees in her a character for his novel. They develop a friendship of sorts. Early on, it made me a little nervous that Ludo would be mean to Mrs Palfrey, or use her, and I didn't want anything too terrible to happen to Mrs Palfrey. It wasn't that she was too sweet, because she was human with good and bad qualities, but I liked her, her mix of cautiousness and recklessness as she navigated her new life.I call this bittersweet because it was both. There were some amusing scenes, but the underlying sadness in the lives of the characters is always present. The life they construct in the hotel, with their rituals and the inevitable hierarchy of social standing were so clearly written. There have been new releases of many of Taylor's novels that I would like to read. I enjoyed her writing style and characterizations. Mrs Palfrey at the Claremont has also been made into a movie starring Joan Plowright.
Also in the Virago Modern Classics series | View all