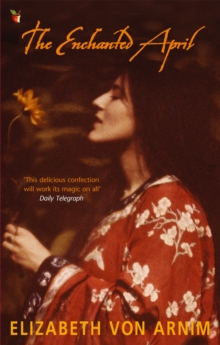 The Enchanted April
Paperback
Description
A discreet advertisement in 'The Times', addressed to 'Those who Apppreciate Wisteria and Sunshine...' is the impetus for a revelatory month for four very different women.
High above the bay on the Italian Riviera stands San Salvatore, a mediaeval castle.
Beckoned to this haven are Mrs. Wilkins, Mrs Arbuthnot, Mrs Fisher and Lady Caroline Dester, each quietly craving a respite.
Lulled by the Mediterranean spirit, they gradually shed their skins and discover a harmony each of them has longed for but never known.First published in 1922 and reminscient of 'Elizabeth and her German Garden', this delightful novel is imbued with the descriptive power and light-hearted irreverence for which Elizabeth von Arnin is renowned.
Information
Format: Paperback
Pages: 288 pages
Publisher: Little, Brown Book Group
Publication Date: 27/11/1991
ISBN: 9780860685173
Other Formats
Paperback from £6.10
Hardback from £10.65
Paperback / softback from £8.84
EPUB from £1.07
PDF from £4.14
Free Home Delivery
on all orders
Pick up orders
from local bookshops
Reviews
Showing 1 - 5 of 8 reviews.
Previous | Next
Review by books-n-tea
16/06/2015
Simply delightful! Von Arnim does a good job describing the different (vastly different!) characters and the dynamics between them. The book has both sharp wit, and a mellow, dream-like quality, which makes one sigh with the desire to sit by a small Italian castello in the springtime sunshine under the blooming wistaria...
Review by khuggard
16/06/2015
The Enchanted April
has a lot of the elements of books that I often love: a beautiful setting, charming characters, a meandering story, and a touch of romance. Yet, even with all of that, I finished it and felt a little bit dissatisfied. I couldn't figure out why until I realized that this book is chick lit, and I don't like chick lit. The fact that it was written and set in the 1920s and that is fairly well written initially hid that fact, but when you get right down to it, it's chick lit. Even though it is 85 year old it's got all of the characteristics of modern chick lit:
Characters who are stuck in a humdrum life and looking for excitement
An unexpected move to a faraway setting
Sudden and unbelievable changes of personality
Situations that wrap up just a little too neatly and conveniently
A happy ending for all without any complications
I didn't hate it, but I won't read it again. I won't seek out any more of Von Arnim's work, and I won't be recommending this one to other readers.
Review by Talbin
16/06/2015
What a delightful book! I think it's almost perfect in its execution. In <i>The Enchanted April</i>, Elizabeth von Arnim introduces us to four women: Lotty Wilkins, Rose Arbuthnot, Mrs. Fisher and Lady Caroline Dester. Mrs. Wilkins and Mrs. Arbuthnot see an small ad in a paper advertising an Italian castle for rent for the month of April. Quite impetuously, they decide to rent it. In order to defray the costs, they find two other women to share the rent: Mrs. Fisher and Lady Dester. Each woman arrives in Italy with her own private sorrow, but over time the magical atmosphere of the place changes them, allowing each to open her heart and become herself.Von Arnim is a gifted portraitist - the women are so carefully and skillfully drawn that the reader feels as if she knows them. And she handles each transformation so skillfully that you can almost visualize the difference in the women. For some, the ending may be a bit hokey, but I found that it fit. I've read a few reviews that call <i>The Enchanted April</i> "chick lit," and I've been thinking about it. Personally, I think <i>The Enchanted April</i> is as much chick lit as <i>Pride and Prejudice</i> - which is to say, not really. Of course, the genre (if you will) didn't really exist until sometime in the 1980s or so, and it is meant to classify specific forms and themes. <i>The Enchanted April</i> may incorporate that form and those themes, but it did so about sixty years earlier. A precursor, perhaps, but no more than that. In my mind, this is a book that - yes - focuses on women and explores the theme of transformation, but that it does it so well, so tightly and in such a well-observed way, that <i>The Enchanted April</i> rises above being boxed into a strict category.In any case, I loved this book. Elizabeth von Arnim has crafted a tightly crafted, beautiful novel about what is possible when you open your heart to others.
Review by helen295
16/06/2015
The Enchanted April, first published in 1922, is the story of four women who rent a castle in Italy together one April. The women are strangers to each other at the beginning of the novel, but each of them has her own reasons for wanting a holiday. Spending a month at San Salvatore surrounded by sunshine and flowers gives each woman a chance to resolve her problems and try to find happiness.I'm so glad my first experience with Elizabeth von Arnim was a good one. I hadn't expected something so readable and full of gentle humour and wit and yet with so much depth and such a lot of character development. I also loved the setting and the atmosphere. The images of Italy in the spring were beautifully described, with the sun shining and the flowers bursting into bloom. I defy anybody to read this story and not want to immediately book a trip to Italy this April!As the title suggests, The Enchanted April is a lovely, enchanting story! After enjoying this one so much, I'll definitely be reading more of von Arnim's work.
Review by lauralkeet
16/06/2015
All the radiance of April in Italy lay gathered together at her feet. The sun poured in on her. the sea lay asleep in it, hardly stirring. Across the bay the lovely mountains, exquisitely different in colour, were asleep too in the light; and underneath her window, at the bottom of the flower-started grass slope from which the wall of the castle rose up, was a great cypress, cutting through the delicate blues and violets and rose-colours of the mountains and the sea like a great black sword.I've just spent a few days at the most glorious medieval Italian castle, well off the beaten path with plenty of lovely sitting areas, indoors and out, and flowers bursting into bloom at every turn. The setting alone proved a perfect escape at the end of a busy day, and it was made even better by a truly lovely story.Lottie and Rose make an impulsive decision to respond to an advertisement for the Italian castle, which is available for the month of April. Eager to escape their husbands and the wet English spring, they pool their savings to pay the rent, and then place an ad themselves for two women to share the accommodation and expenses. The result is an unlikely foursome, including the elderly Mrs Fisher, and the beautiful wealthy socialite Caroline Dester. The castle proves to be everything they dreamed of, and begins working its transformation almost immediately. The women, who really have nothing at all in common, function independently at first but gradually find connection and even friendship. And there are surprises in store, as their holiday works its magic in other parts of their lives.I enjoyed the 1991 film adaptation very much, and even though I remembered the basic outline of the story, I still found myself caught up in its magic. I could almost smell the flowers in the gardens, feel the sunshine warm on my shoulders, and taste the delicious meals prepared by the castle's cook. And I loved the relationships between the women, and the way each of them grew personally over the course of their holiday. This is a book worth saving for a rainy day re-read.
Also in the Virago Modern Classics series | View all