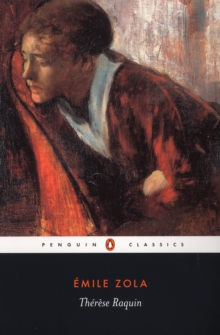 Description
Perhaps his most famous work, Emile Zola's Therese Raquin is a dark and gripping story of lust, violence and guilt, set in the gloomy back streets of Paris.
This Penguin Classics edition is translated with notes and an introduction by Robin Buss.In the claustrophobic atmosphere of a dingy haberdasher's shop on the Passage du Pont-Neuf in Paris, Therese Raquin is trapped in a loveless marriage to her sickly cousin, Camille.
The numbing tedium of her life is suddenly shattered when she embarks on a turbulent affair with her husband's earthy friend Laurent, but their animal passion for each other soon compels the lovers to commit a crime that will haunt them forever.
Therese Raquin caused a scandal when it appeared in 1867 and borught its twenty-seven-year-old author a notoriety that followed him throughout his life.
Zola's novel is not only an uninhibited portrayal of adultery, madness and ghostly revenge, but also a devastating exploration of the darkest aspects of human existence.Robin Buss's translation superbly conveys Zola's fearlessly honest and matter-of-fact style.
In his introduction, he discusses Zola's life and literary career, and the influence of art, literature and science on his writing.
This edition also includes the preface to the second edition of 1868, a chronology, further reading and notes.Emile Zola (1840-1902) was the leading figure in the French school of naturalistic fiction.
His principal work, Les Rougon-Macquart, is a panorama of mid-19th century French life, in a cycle of 20 novels which Zola wrote over a period of 22 years, including Au Bonheur des Dames (1883), The Beast Within (1890), Nana (1880), and The Drinking Den (1877).If you enjoyed Therese Raquin, you might like Zola's Germinal, also available in Penguin Classics.
Information
Format: Paperback
Pages: 240 pages
Publisher: Penguin Books Ltd
Publication Date: 29/07/2004
Category: Classic fiction (pre c 1945)
ISBN: 9780140449440
Other Formats
Paperback from £5.95
Hardback from £14.39
Mixed media product from £12.66
Paperback / softback from £4.45
eAudiobook MP3 from £11.72
EPUB from £8.00
Free Home Delivery
on all orders
Pick up orders
from local bookshops
Reviews
Showing 1 - 5 of 12 reviews.
Previous | Next
Review by RoseCityReader
16/06/2015
Published in 1867, Thérèse Raquin is Emile Zola's first novel and a magnificent proto-noir thriller. All the necessary elements are here -- a hot-to-trot young wife, an invalid husband, a greedy lover – all simmered together in a Parisian stew of lust, murder, deception, debauchery, and guilt. With the macabre ghoulishness of Poe and the diabolical desperation of Cain, Thérèse Raquin should be on any noir-lover's bookshelf.
Review by mabe
16/06/2015
Zola painted Camille as a man devoid of redeeming features. We were routing for Laurant to finish him off so that he and Thesese could indulge their passion. However, when the moment came it was truly horrible. The downward and agonising descent into madness and eventual mutual suicide was difficult to read.
Review by Bellettres
16/06/2015
If this had not been a selection of our book group, I would not have finished it. I think it might have been a better read in the original French, but this translation was stilted and repetitive. The characters do not seem real, nor do their actions. Their crime haunts them, but only because they both have unbelievably over-active imaginations. Zola certainly evokes the misery and the hopelessness of their lives, but I was hard-pressed to care. If this is classic literature, you can have it!
Review by StevenTX
16/06/2015
Therese Raquin is a harrowing story of lust, murder, terror, and madness.A French officer brings his black-haired love child, the daughter of his North African mistress, to his sister in France, a Mme Raquin. He returns to Africa where he is soon reported killed. Mme Raquin, a widow, is only too happy to raise her orphaned niece as a companion to her sickly son Camille. Young Thérèse, full of healthful vitality, is forced to endure the claustrophobic life of her sick cousin. Seeing nothing of the world, she becomes a silent introvert, suppressing her natural desires. When she reaches adulthood, Thérèse apathetically complies when Mme Raquin insists that she marry Camille so she can continue to be his caretaker. Thérèse gradually comes to loathe her banal, sickly husband, but continues to repress her feelings and desires. This comes to an end when she meets Laurent, Camille's virile, self-indulgent friend. The two begin a passionate affair behind the backs of the unsuspecting mother and husband. When circumstances make it impossible for them to continue their clandestine meetings, sexual frustration drives them to plot to murder Camille so they can eventually marry. The plot is successful, but each is tormented by the fear of detection, and instead of the bliss they expected, their lives become a living hell.The novel created a sensation when it was first published in 1867, for its violence, its sexual candor, and most of all for its amorality. This is a tale devoid of religious content or social message. Zola's defended his novel, saying his purpose was "to study temperament, not character." He contrasts the sanguine nature of Laurent with the nervous constitution of Thérèse, and treats their romance and its tragic end as something as inevitable as a chemical reaction. Zola's psychological analysis may seem primitive and simplistic, but it was a bold venture for its time. The characters and their mental states are always believable even though modern psychologists would explain them in more sophisticated terms.Therese Raquin has none of the social criticism for which Zola's later novels are known. Instead it bears a strong resemblance to some of the short stories of Edgar Allan Poe, whose writings probably influenced Zola. It does, however, convey a sense of the lives, institutions, and surroundings of mid-19th century Paris. It is an intense and memorable novel, highly recommended.
Review by writestuff
16/06/2015
Nature and circumstances seemed to have made this man for this woman, and to have driven them towards one another. Together, the woman, nervous and dissembling, the man, lustful, living like an animal, they made a strongly united couple. They complemented one another, they protected one another. In the evening, at table, in the pale light of the lamp, you could feel the strength of the bond between them, seeing Laurent's heavy, smiling face and the silent, impenetrable mask of Therese. – from Therese Raquin, page 43 -Therese Raquin is an unhappy, somber woman who has married her cousin, Camille – a sickly man who repulses her. They live together with Camille's mother Mme Raquin in a dingy apartment in Paris and the joyless days crawl past, with the only interruption being a weekly Thursday night domino game with visitors. So when Camille's co-worker and friend Laurent arrives one evening, it is not surprising that his ruddy good looks and easy-going nature gain Therese's attention. Soon the two are engaged in an unseemly affair right beneath the noses of Camille and his mother. The affair becomes more and more passionate, and the two lovers hatch a scheme to rid themselves of Camille so that they can marry each other.Therese Raquin is a psychological thriller of sorts which explores the psyche of the criminal mind and seeks to examine the repercussions of a criminal act. The plot is simple and the novel takes place primarily in the dreary apartment of the Raquin's. To fully understand the novel, the reader should understand some of the science of the time. Zola, at only twenty-seven years old when he published Therese Raquin, was interested in a theory of human psychology which was well-accepted in the mid-nineteenth century…namely that of human temperament being the key to understanding human behavior. Simply put, human temperament could be divided into four basic categories: bilious, sanguine, nervous and lymphatic. At the time of the writing of this novel, doctors believed a person's temperament could be altered by circumstance. It is this idea which motivated Zola to write Therese Raquin. Faced with fierce criticism that the novel was pornographic and "putrid," Zola added a preface to the second edition of the book where he writes:In Therese Raquin I set out to study temperament, not character. That sums up the whole book. I chose protagonists who were supremely dominated by their nerves and their blood, deprived of free will and drawn into every action of their lives by the predetermined lot of their flesh. – from the Preface of Therese Raquin, page 4 -Zola assigns Therese a nervous temperament which becomes inflamed when her love for Laurent is awakened.With the first kiss, she revealed the instincts of a courtesan. Her thirsting body gave itself wildly up to lust. It was as though she were awakening from a dream and being born to passion. She went from the feeble arms of Camille to the vigorous arms of Laurent, and the approach of a potent man gave her a shake that woke her flesh from its slumber. All the instincts of a highly-strung woman burst forth with exceptional violence. – from Therese Raquin, page 35-36 -Laurent, on the other hand, demonstrates a sanguine temperament.Underneath, he was lazy, with strong appetites and a well-defined urge to seek easy, lasting pleasures. His great, powerful body asked for nothing better than to lie idle, wallowing in constant indolence and gratification. – from Therese Raquin, page 28 -Zola uses the temperaments of the characters to demonstrate what happens when two people with these temperaments come together to commit a crime for their own personal gain. It is heady stuff.At its core, however, Therese Raquin is a classic tragedy. It is also a moral tale – examining the consequences of adultery and murder. Both Therese and Laurent are narcissists who fail to regret the evil of their actions. In pursuing their own selfish desires, they not only inflict cruelty on Mme Raquin (who loves and trust them), but they ruin their own lives in the process.Emile Zola's writing is surprisingly accessible and modern given the time in history the story was penned. Zola quickly pulls the reader into the dark and despairing lives of his characters. This is far from an uplifting story – in fact, it is a rather depressing read. Despite that, I enjoyed getting inside the heads of these characters who are admittedly grotesque. Although psychology today does not agree with psychology in Zola's time, some things do remain the same…namely that immoral behavior rarely results in happiness and violent crime is almost always punished, if only by the impact it has on the perpetrators' psyche.Readers who enjoy classic literature, psychology, and crime novels will undoubtedly want to add Therese Raquin to their list of potential reads.Recommended.