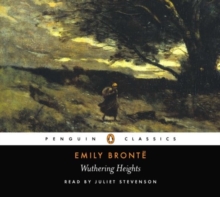 Wuthering Heights
CD-Audio
Description
Lockwood, the new tenant of Thrushcross Grange on the bleak Yorkshire moors, is forced to seek shelter one night at Wuthering Heights, the home of his landlord.
There he discovers the history of the tempestuous events that took place years before: of the intense passion between the foundling Heathcliff and Catherine Earnshaw, and her betrayal of him.
As Heathcliff's bitterness and vengeance is visited upon the next generation, their innocent heirs must struggle to escape the legacy of the past.
Other Formats
Mixed media product from £40.85
Hardback from £6.59
Paperback from £2.50
Free Home Delivery
on all orders
Pick up orders
from local bookshops
Reviews
Showing 1 - 3 of 3 reviews.
Review by infjsarah
16/06/2015
I can remember trying to read this book when I was a teenager and giving up after 50 pages. 25 years later I thought I'd try again with an audiobook. Now I remember why I gave up - what an unpleasant bunch of people! I kept expecting something dramatic to happen but it didn't. If children are treated unpleasantly then it's hardly a surprise if they grow up unpleasant. And the great passion between Heathcliff and Cathy was more the rantings of 2 people who never grew up. Not a classic I would recommend. "Jane Eyre" is a thousand times better.
Review by LisaMaria_C
16/06/2015
Given its cultural importance, I'm glad I read this book, but it's far from a favorite. I might have liked it better if this wasn't famous as a "great romance." Certainly even a lot of what is on the romance aisle has heroes patterned after Heathcliff--the ultimate brooding Byronic "alpha hero." The problem is I loathe him and Cathy both. Am I supposed to feel sympathetic towards a guy who kills puppies? I'm not speaking metaphorically here.That said, there is a lot to admire here in a literary sense, even if in my case almost grudgingly. I like the layers of narrative here. The story is mostly filtered through a housekeeper, Nelly Dean, telling the story of Heathcliff and Cathy and those they affected to someone renting a nearby estate. The imagery, the techniques feel both modern and timeless and there's a lot of material here beyond that central romance--a lot that cycles back in the next generation in a way that speaks of healing despite Heathcliff's malign intents. I liked all that, even if I was too repulsed by Heathcliff and Cathy to count this a favorite or a story I'd ever want to read again. This is more a story of hate than love.
Review by dkgarner95
16/06/2015
Sooooooo. . . Wuthering Heights.I'm not entirely sure where I came up with this idea, but I was under the impression that this was supposed to be some kind of epic love story. It's so not. Or, if it is, there's an extremely thin line between love and hate. Like, practically non-existent.After a teensie bit of research, I found out that the major themes of Wuthering Heights really revolve around Jealousy and Vengeance, rather than Love. This makes WAY more sense.The characters in this book are horrible. They're hateful, wretched, vile creatures . . .and they had me totally glued to the pages. I was all like, "What unspeakable acts of cruelty will they bestow upon one another next?! (flip, flip, flip)." It was mildly addicting.And though I anticipated having a bit of trouble reading this, I didn't struggle with the language nearly as much as I thought I would (with the exception of Joseph. Does anyone have any idea what that dude was saying?!). Did it stretch the boundaries of my vocabulary? Sure it did. But there's nothing wrong with learning a few new words. Okay. A bunch of new words.Overall, I wouldn't exactly say that I enjoyed reading Wuthering Heights, but I was most definitely entertained. If you're looking to dip your toes into the pool of classics, I would recommend wading around in this one. Just don't hold your breath if you're looking for any romance.