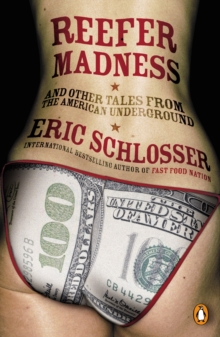 Reefer Madness : ... and Other Tales from the American Underground
Paperback / softback
Description
From the author of Fast Food Nation, Eric Schlosser's Reefer Madness: and Other Tales from the American Underground follows the money to uncover made the country rich: porn, pot and exploitation. In three linked essays, Eric Schlosser uncovers how dirty dealings and secret vices are part of a global black market on which we all depend. Reefer Madness traces the history of the contemporary 'war on drugs' from its origins in Reagan's social conservatism through to its profound impact on civil society, creating a justice system that punishes marijuana offences more harshly than rape and murder. An Empire of the Obscene tells the story of Reuben Sturman, the billionaire 'Walt Disney of porn' who most effectively exploited economies of scale to create a business that now saturates America and the world with graphic sexual imagery. In the Strawberry Fields shows how public demand for a soft red fruit is causing mass migration from Central America and changing California's political economy forever. 'An amazing secret history of America's favourite vices' Independent'A shocking journey through the underside of the world's mightiest economy' The Times'Schlosser tells us things we already suspect to be true, but don't dare think about' Daily Telegraph'Superb ... mind-blowing ... quite simply the non-fiction book of the year' The ListEric Schlosser is an author and investigative journalist based in New York.
His first book, Fast Food Nation, was a major international bestseller.
His work has appeared in the Atlantic Monthly, Rolling Stone and the Guardian.
Information
Format: Paperback / softback
Pages: 352 pages
Publisher: Penguin Books Ltd
Publication Date: 26/02/2004
Category: Cultural studies
ISBN: 9780141010762