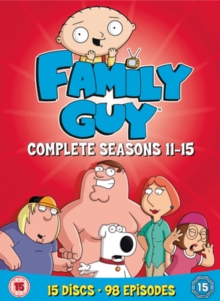 Family Guy: Complete Seasons 11-15
DVD
Description
All the episodes from seasons 11-15 of the animated sitcom created by Seth MacFarlane.
The Griffins are an average North American family living in an average North American home in an average North American town.
The dad Peter (voice of MacFarlane) is a big TV fan; mom Lois (Alex Borstein) is a former heiress who gave up her riches to marry the man she loves; 16-year-old Meg (Mila Kunis) is a drama queen eager to be accepted by her peers; 13-year-old Chris (Seth Green) likes his food and has the beginnings of a TV habit which could grow to equal his dad's; baby Stewie (MacFarlane) is a malevolent genius with plans for complete global domination; and martini-guzzling Brian (MacFarlane) is the family dog.
Season 11 episodes are: 'Halloween On Spooner Street', 'Baby, You Knock Me Out', 'Brian Writes a Bestseller', 'Road to the North Pole', 'New Kidney in Town', 'And I'm Joyce Kinney', 'Friends of Peter G.', 'German Guy', 'The Hand That Rocks the Wheelchair', 'Trading Places', 'Tiegs for Two', 'Brothers & Sisters', 'The Big Bang Theory' and 'Foreign Affairs'.
Season 12 episodes are: 'Lottery Fever', 'Seahorse Seashell Party', 'Screams of Silence: The Story of Brenda Q', 'Stewie Goes for a Drive', 'Back to the Pilot', 'Thanksgiving', 'Amish Guy', 'Cool Hand Peter', 'Grumpy Old Man', 'Meg and Quagmire', 'The Blind Side', 'Livin' On a Prayer', 'Tom Tucker: The Man and His Dream', 'Be Careful What You Fish For', 'Burning Down the Bayit', 'Killer Queen', 'Forget-Me-Not', 'You Can't Do That On Television, Peter', 'Mr. and Mrs. Stewie', 'Leggo My Meg-O', 'Tea Peter', 'Family Guy Viewer Mail #2' and 'Internal Affairs'.
Season 13 episodes are: 'Into Fat Air', 'Ratings Guy', 'The Old Man and the Big C', 'Yug Ylimaf', 'Joe's Revenge', 'Lois Comes Out of Her Shell', 'Friends Without Benefits', 'Jesus, Mary and Joseph!', 'Space Cadet', 'Brian's Play', 'The Giggity Wife', 'Valentine's Day in Quahog', 'Chris Cross', 'Call Girl', 'Turban Cowboy', '12 and a Half Angry Men', 'Bigfat', 'Total Recall', 'Save the Clam', 'Farmer Guy', 'Roads to Vegas' and 'No Country Club for Old Men'.
Season 14 episodes are: 'Finders Keepers', 'Vestigial Peter', 'Quagmire's Quagmire', 'A Fistful of Meg', 'Boopa-dee Bappa-dee', 'Life of Brian', 'Into Harmony's Way', 'Christmas Guy', 'Peter Problems', 'Grimm Job', 'Brian's a Bad Father', 'Mom's the Word', '3 Acts of God', 'Fresh Heir', 'Secondhand Spoke', 'Herpe the Love Sore', 'The Most Interesting Man in the World', 'Baby Got Black', 'Meg Stinks!', 'He's Bla-ack!' and 'Chap Stewie'.
Season 15 episodes are: 'The Simpsons Guy', 'Book of Joe', 'Baking Bad', 'Brian the Closer', 'Turkey Guys', 'The 2000-Year-Old Virgin', 'Stewie, Chris & Brian's Excellent Adventure', 'Our Idiot Brian', 'This Little Piggy', 'Quagmire's Mom', 'Encyclopedia Griffin', 'Stewie Is Enceinte', 'Dr. C and the Women', '#JOLO', 'Once Bitten', 'Roasted Guy', 'Fighting Irish' and 'Take My Wife'.
Information
Format: DVD
Region: 2
Certification: (15)
EAN: 5039036079204
Catalogue number: 8098101000
Studio: 20th Century Fox Home Ent.
Release date: 07/11/2016
Genre: Comedy
Colour: Colour
Free Home Delivery
on all orders
Pick up orders
from local bookshops