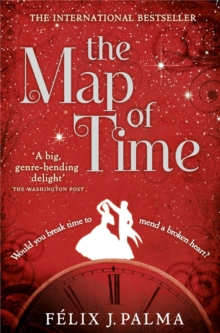 The Map of Time
Paperback
Description
An epic, ambitious and page-turning mystery that will appeal to fans of The Shadow of the Wind, Jonathan Strange and Mr Norrell and The Time Traveller's WifeLondon, 1896. Andrew Harrington is young, wealthy and heartbroken.
His lover Marie Kelly was murdered by Jack the Ripper and he longs to turn back the clock and save her.Meanwhile, Claire Haggerty rails against the position of women in Victorian society.
Forever being matched with men her family consider suitable, she yearns for a time when she can be free to love whom she choses.But hidden in the attic of popular author - and noted scientific speculator - H.G.
Wells is a machine that will change everything.As their quests converge, it becomes clear that time is the problem - to escape it, to change it, might offer them the hope they need...
Information
Format: Paperback
Pages: 528 pages
Publisher: HarperCollins Publishers
Publication Date: 01/05/2012
Category: Historical adventure
ISBN: 9780007344130
Other Formats
EPUB from £1.99
eAudiobook MP3 from £25.16
Free Home Delivery
on all orders
Pick up orders
from local bookshops
Reviews
Showing 1 - 4 of 4 reviews.
Review by mikitchenlady
16/06/2015
I started Map of Time during a summer when I gave myself a challenge to read 20 books, and confess that I got about halfway through it and set it aside to read something else a few times, and never got back to it. No, wait, it's a really interesting book - it's just the kind of book where you spend an afternoon, get through a chunk of it and realize, "wow, I've still got 400+ pages". It's definitely historical fiction, and includes intriguing characters like Jack the Ripper, H. G. Wells, author of The Time Machine and other writings, and Joseph Merrick, the Elephant Man, among others. It's about time travel -- well, sort of. It's about love, friendship, challenge, fate, destiny, and survival. It has plot twists that will leave you scratching your head but then coming to the conclusion that "yes, I suppose that makes perfect sense." It would definitely fit into my Adventure-Hero-Journey list at school! It's the kind of book that one can't really describe or explain without giving away important plot twists. It is well written, and a really creative concept. It needs a mature reader, one who is more likely found with a book in front of them rather than a game controller.
Review by apachecat
16/06/2015
I didnt know what to expect coming into this book. But wow it sucked me in and wouldnt let go. Three different but interwoven stories are presented to us in the book, with the mysterious and wonderful narator making an apperance and guiding us through the tale. I can honestly say I like every single aspect of this book, the storyline, the plots twists, the way H. G. Wells, Bertie, is fleshed out and turned into the most amazing character. All I can say without giving away the plot is that time travel always seems to be because of the love of a women. An amazing tale everyone should read it.
Review by NancyNo5
16/06/2015
The Map of Time had been on my wish list for several months. I was overjoyed when it finally came out in paperback.Honestly, my joy was short lived. The story centers around famed author H.G. Wells, and his relationship with the subject matter of time travel. Narrated by an omniscient narrator, we learn how Wells is brought into several scenarios broken down into 3 sub chapters where the concept of time travel is addressed. Why Wells? Obviously because of his novel The Time Machine.Reading about time travel can be tricky maneuver for the reader. confusion can easily occur as to which era the writer is talking about at any given instance. The reader has to be even more so with this novel as Mr. Palmer is quite verbose in his language, to the point where I skipped passages just to get to the next page. I started to lose interest in the story because of these extremely long passages, asking myself, where is this going? A richly detailed novel with characters that were well defined, and a story line that could be confusing, the author does pose philosophical and ethical questions of whether time travel should be allowed to change history and how that will affect the time-space continuum. A good premise for a story and I wish I could have enjoyed it more. Mr. Palma shows a brilliance for the use of the written word. I just felt it did not work with this story.
Review by passion4reading
16/06/2015
Félix J. Palma, the author of The Map of Time, likes to play mind games with his readership. The blurb, about a heartbroken young man and an independent young woman at the end of the Victorian age, seems to point in a certain direction, but the author turns the reader's preconception on its head, and the book, which I had imagined to be a straightforward novel about time travel (is that even possible?), turns out to be three separate tales linked by the character of H. G. Wells, the author of The Time Machine. To give a synopsis here would be quite difficult without giving away some of the surprises, as the plot twists and turns in unexpected directions, so suffice to say that the author addresses the concepts of choice, fate and predestination, and explores the idea of building worlds using one's imagination; but mainly this is a book about the restorative power of love. In the course of the book, the boundary between what is fact and fiction (in a known work of fiction) becomes blurred, keeping the reader guessing as to which is which, and a supposed secondary character - H. G. Wells - is surreptitiously elevated to the role of main protagonist. At times the author addresses the reader directly, in the guise of the omniscient narrator and with a knowing wink, and in these instances the reader can experience the author's mischievous sense of humour at first hand. With 500+ pages the book definitely feels at least 50 pages too long, and I felt that Félix Palma was occasionally indulging himself and constructed elaborate backgrounds for some of the minor characters, slowing down the momentum: hence the rating of only four stars. Despite the criticism, this is an imaginative and intelligent read that whiles the away the hours surprisingly quickly, and now that I know this is only the first volume in a trilogy, I look forward to picking up the thread with The Map of the Sky.