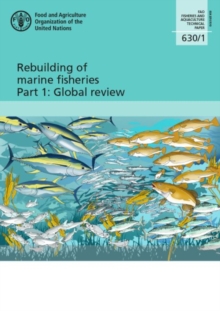 Rebuilding of marine fisheries : Part 1: Global review
Paperback / softback
Description
Rebuilding depleted stocks is a central part of the fisheries governance agenda.
By analysing the available literature, Part 1 of "Rebuilding of Marine Fisheries" provides a global review of the emergence of the rebuilding paradigm, its key concepts, the trends in fishery resources, and the empirical evidence available on stocks depletion, collapse and rebuilding.
It addresses the bio-ecological, economic, and human dimensions of rebuilding or restoration of stocks, multispecies assemblages and habitats/ecosystems and touches on the need for rebuilding at the whole sector level when depletion has become widespread and chronic.
The human dimensions of stocks and fisheries are given particular attention, looking at conflicting objectives, the bio-economy of rebuilding, its costs and benefits, and the distributional effects of the related reform among actors with their potential social consequences in the short and long terms.
Governance is addressed in detail: legal and policy frameworks; rationale and objectives of a rebuilding regime; alternative rebuilding strategies; reference values and protocols; regulatory time-frames; risk management and harvest control rules; impacts of climatic oscillations; management tool-box; implementation guidance and performance evaluation. The document ends with a review of the determinants of success of a rebuilding programme.
Information
Format: Paperback / softback
Pages: 290 pages, col. figs, tables
Publisher: Food & Agriculture Organization of the United Nati
Publication Date: 30/09/2018
Category: Agriculture & farming
ISBN: 9789251307397
Also by Food and Agriculture Organization | View all
Also in the FAO fisheries and aquaculture technical paper series | View all